Saturday, January 30th, 2010
Agape expansion means bigger space, more programs
By Janie Southard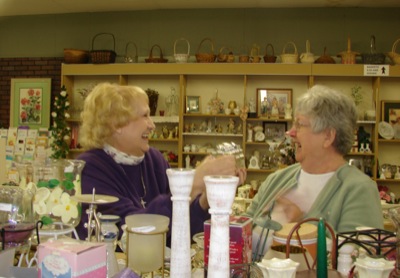 ST. MARYS - Agape Ministries' facility will soon increase by nearly 10,000 square feet and leaders of the agency are predicting expanded programming will result from the larger space.
The building being constructed next to the current facility at 1220 E. Spring St. will be home to the thrift store only and will eventually offer larger items such as furniture. Almost as important as the thrift store is that the present building can broaden client service programs such as wellness clinics, employment assistance, job fairs, classes on nutrition, childcare and periodic visits by a registered nurse, as well as several other opportunities.
"We're just out of room where we are. Our customer base has been growing and we're getting people from Fort Wayne, Muncie, Lima, Sidney, who are making donations (of food, clothing and household items) and shopping here. We rely on the thrift store for our operations (budget) so we're excited about the donations. Problem is that we need more room for display," said Kathy Bayless, Agape executive director.
She explained profit from the thrift store has become doubly important since it will provide the only revenue to pay the $480,000 mortgage, as well as support for operational expenses.
"The community is very, very generous in all donations, including money. I want to be clear that we're not asking for donations for the new building. That will come from the thrift store," she continued.
Community monetary donations are used to support Agape's mission, which is to buy food for the pantry and support programs such as providing lunches for kids during the summer, wellness clinics and helping clients gain skills to get back on their feet. Several new programs are on the horizon.
"Since the community is so good to us, we have tried to keep our business local. Our mortgage loan on the new building is with Minster Bank and H.A. Dorsten of Minster is doing the construction. We want to do all we can to keep local people employed," Bayless said.
The ministry is focused on helping people in distress for any number of reasons, for example loss of a job, divorce or the general economic downturn. Through it's Helping Hands Financial Aid Fund, Agape can provide financial assistance if necessary.
Currently there is a greater need for the ministry's help and Bayless is revisiting old projects and planning new ones, such as the Backpack Project.
"This will run with our Summer Lunch Program in cooperation with the school. We want to provide each child in the school program on Thursdays with a backpack containing 10 to 14 food items so they can have breakfast and lunch over the weekends," she said, estimating the cost of supplies for the eight-week project at $20,000. Foods in consideration include cereal, soups, peanut butter, Pop Tarts, macaroni and cheese, canned meat, pasta, fruit cups, etc.
Bayless said some kids get only one meal a day during the summer.
"In school, they're on the free breakfast/lunch program. A lot of parents can't afford three meals a day. Yes, that's happening right here - more than you imagine," she said.
Volunteer Rena Grant, manager of the thrift store, said one of her biggest joys is seeing the reaction of clients when they first come to Agape. "Their eyes get big as saucers when they see the selection of foods in the pantry. Because of their situation in life, they really have no (input) in what happens, so choosing food here becomes one of the only decisions they make about what happens in their lives," Grant said. A volunteer accompanies each client in this free, one-on-one food program.
Funding for Agape comes from various sources: private foundations, thrift store sales, United Way of Auglaize County, federal and private grants, but for the most part it's from monetary donations by individuals.
"Our main thrust, our main passion is to do whatever we can to help people, and, the thrift store plays a big part. We're moving forward into the future in faith - that's our mission," Bayless said.