Saturday, January 30th, 2010
Bulldogs blow past limping Indians
By Ryan Hines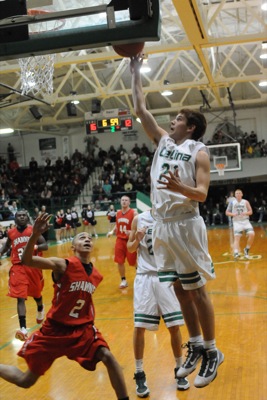 Celina's pressure defense and balanced scoring was too much for an undermanned Lima Shawnee squad on Friday night at the Fieldhouse.
The Bulldogs won for the sixth time in the last seven games with a convincing 81-60 victory over Shawnee in Western Buckeye League action.
Celina shot 53 percent from the floor, had one of its best nights at the free-throw line by hitting 26-of-37 (70 percent) and 10 different Bulldogs dented the scoreboard in the blowout win.
As impressive as the offensive numbers are, Celina head coach Chris Bihn continues to credit the defense for making it a little easier on the other end of the floor.
"I like the way our offense is playing, no doubt, but I still think that it all comes back to the way that we are playing defense," said Bihn. "Our defense forced turnovers and we turned them quickly into layups and when you do that, it sure gives your confidence a boost. We got a lot of good looks at the basket in transition because of the play of our defense."
Celina's defense made it tough on a Shawnee team that was playing without two of its best players in Cody Smith and Seth Rosenbauer.
Shawnee head coach Nick Bertke was complimentary of Celina's defense.
"I think that tonight we really struggled to shoot the ball (21-of-55 for 38 percent) and I think that Celina's defense had a lot to do with that," said Bertke. "They are a deep team that plays hard and they really got after us on the defensive end of the floor. Then we made some mistakes with turnovers, and they weren't turnovers where we can reset our defense, they were turnovers that led to layups and those are huge."
The Indians like to push the tempo because of their quickness and lack of size and the Bulldogs were happy to oblige. Celina held a 16-12 lead after the first quarter but opened the second stanza with an 8-3 spurt to put the Bulldogs comfortably in front 24-15. Darin Waterman then converted a three-point play and Kahl LaRue muscled his way up for a deuce and Celina went up by double digits at 29-17 to force a Shawnee timeout with 2:39 to play before halftime.
The Bulldogs kept the 12-point lead at halftime and then quickly put the game out of reach early in the third quarter.
Celina started the third quarter with a 17-5 run for a 51-27 lead and buried Shawnee the rest of the way. The Bulldogs' balance showed during the game-changing run as six different players contributed in the scoring column.
"I think that we were able to get a few easy baskets off our defense right away in the third quarter and it helped push our lead up," said Bihn. "We got Shawnee to shoot a few more jump shots to start the third quarter and that got our break started and we finished in transition."
The Bulldogs' lead grew to as many as 29 points in the fourth quarter, and never dipped below 20 the rest of the way, despite the efforts of Shawnee's Trey Howard. After scoring nine points in the first half of play, Howard scored 21 in the second half to finish with a game-high 30 points.
The problem for the Indians is that Howard scored half of their points and Eddie Kelley was the only other Shawnee player in double digits with 12 points.
Balance was not a problem for Celina as five different Bulldogs scored eight or more points. Waterman led the way with 22 points and Scott Moeder hit for 10 points while Mitchell Ross, Greg Riemesch and LaRue finished with eight points apiece.
"We got a lot of guys that can contribute for us and they are making the most of their minutes on the floor," said Bihn. "I really don't think that we look any different when we rotate players in, because everyone is contributing in a positive way for us."
Celina is back in action at the Fieldhouse tonight with a Mercer County rivalry matchup on the docket as the Coldwater Cavaliers (11-1) pay a visit. Over 200 reserved tickets are still available for tonight's game between the two Mercer County Rivals.