Wednesday, January 6th, 2010
Bulldogs beat Cavaliers to finish 1-1
By Gary R. Rasberry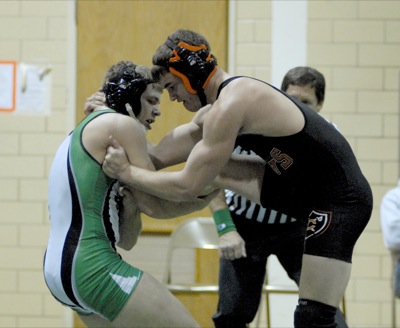 When Coldwater and Celina met up in the third and final wrestling matchup of Tuesday night at Celina High School, it wasn't just Mercer County bragging rights on the line, it was the last chance for one of the teams to leave the gym with a win.
After Wapakoneta bested Celina and Coldwater in earlier matches, the Cavaliers and MatDogs battled to avoid the 0-2 mark of the trimatch.
Despite having to void several weight classes, Celina came through for a 40-27 win over the Cavaliers to end up 1-1 on the night while the Cavs went 0-2.
Wapak knocked off Celina in the Western Buckeye League dual match battle, 41-27. The Redskins were spotted 24 points as Celina was unable to fill several weight classes. The MatDogs got some wins in a number of the contested matches, but the hole was too deep.
"We gave up quite a few (points) against Wapak. Too many to overcome," said Celina coach Tim Doner. "We did good in the matches we did wrestle. We won more matches, but couldn't fill out the other weight classes."
While Celina rested up for Coldwater, the Cavaliers faced the Redskins, getting an early lead, but needed a key win at 285 pounds to hold off Wapak, which was guaranteed six points in the final match because of a Coldwater void.
The Cavaliers' Tyler Wilder faced off against Brad Fleck with Coldwater holding a slim 28-27 lead. Wilder was up 6-4 before Fleck picked up two big points off a takedown in the last minute of the third period to tie things up and send the bout into overtime. Fleck got the takedown early in the one-minute session to give Wapak an 8-6 win and a 30-28 lead. Then the void came in to make the final 36-28.
Both teams came up with big wins against the other team's top wrestlers in the Celina-Coldwater battle. Coldwater's Jeremy Post battled Adam Cron in a lightweight match, with Post getting the 7-4 win. Celina countered at 160 pounds with Derek Minch getting a 4-2 decision over Trevor Kunk.
Experience paid off at the bigger weights for Celina, as Alex Minch beat Adam Alig at 215 pounds and Codey Welker pinned Wilder at 285.
"Coldwater did very good," said Doner. "They're strong throughout. We just edged them out. Lot of good matches."
"We told the kids coming in that they'd have to be able to go the six minutes," said Coldwater coach Chuck Alig. "Against Wapak, we did that. Against Celina, we didn't."
Coldwater is back in action Saturday, hosting its second duals tournament, The Cavalier Duals, in The Palace. Celina heads to Putnam County next Tuesday to face Ottawa-Glandorf.