Friday, February 5th, 2010
Fort Recovery rolls past St. Henry
Indians dominate the boards to stay a game back of Marion Local
By Gary R. Rasberry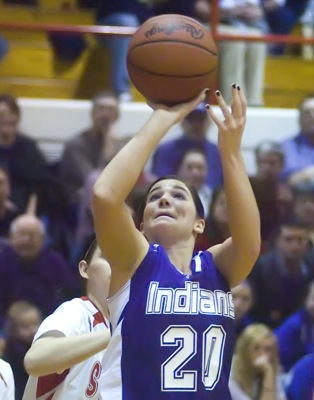 ST. HENRY - Fort Recovery dominated from the opening tip and didn't let up until the final horn sounded to stay a game back of Marion Local in the Midwest Athletic Conference standings with a 70-36 win over St. Henry at Redskin Gymnasium on Thursday night.
The win moves the Indians to 13-3 on the season and 6-1 in the MAC while the Redskins drop to 9-8 overall and 2-5 in league play.
It actually took about two minutes for anyone to get onto the scoreboard, but when Fort Recovery's Nicole Dilworth hit a pair of free throws with 5:51 left in the opening quarter, that was the spark the Indians needed. Within a span of a minute and 44 seconds, it was 13-1 Indians, highlighted by Chelsey Leuthold hitting a three-pointer while getting fouled and converting the rare four-point play.
The Redskins had trouble just getting into their halfcourt offense as Fort Recovery forced 10 first-quarter turnovers.
"We controlled the tempo tonight," said Fort Recovery coach Doug Bihn. "Tempo is key for us. It really is. We keep the tempo, it negates their size."
The most impressive stat of the night might have come in the rebounding department. Despite facing the taller Redskin lineup featuring Heather Rammel at 6-1 and Becky Dirksen at 6-0, the Indians, with 5-10 Nicole Pottkotter being the tallest player, outrebounded the Redskins 46-25, including a blistering 18-8 advantage on the offensive glass.
"If there was one place I was really frustrated with, it was after the shot when we didn't check out and get the defensive board. I think we had to do a better job on the defensive glass to have any shot," said Fort Recovery coach Jeff Roessner. "They manhandled us. I don't know what they ended up with, but at the half, we had them for 12 (offensive boards) at halftime."
"I can't say enough about how they rebounded the basketball tonight," said Bihn. "We flat out owned the boards. That was a big thing all week for us. ... It was a big margin (offensive boards) on our side. The kids were relentless on the glass. They really were."
Leuthold paced Fort Recovery with 19 points, thanks to a 4-of-5 night from behind the three-point line. Pottkotter added 17 points and 12 rebounds with Holly Brunswick scoring 12 off the bench.
"Fort Recovery did a great job," said Roessner. "Their ball movement and outside shooting was very, very good. They were too much team for us to handle tonight."
Kenzie Bruggeman struggled with her shooting for St. Henry, hitting just 5-of-18 from the field to pace the Redskins with 14 points.
Fort Recovery makes the short trek south to face Mississinawa Valley on Saturday. St. Henry is off until next Thursday traveling north to face Coldwater in their annual MAC battle.