Friday, February 12th, 2010
Rebounding keys Coldwater victory
By Gary R. Rasberry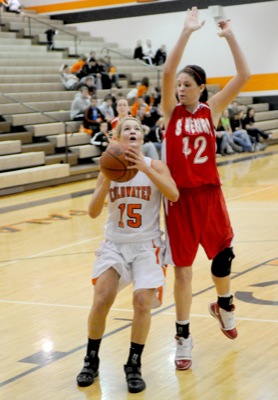 COLDWATER - One of the main keys of basketball is rebounding.
It was rebounding that was the bane of St. Henry's play on Thursday night in Midwest Athletic Conference play against Coldwater.
The Cavaliers were able to get second and sometimes third chances at the basket, which mixed in with 20 Redskins turnovers, allowed Coldwater to pick up its 10th win of the season with a 56-44 triumph over rival St. Henry at The Palace.
Coldwater (10-6) moves to 4-3 in conference play, while St. Henry's record dips to 9-9 overall and 2-6 in the conference.
The stat that stood out for St. Henry coach Jeff Roessner was 17 to 4. That was the margin of difference in offensive rebounds in favor of Coldwater as the Cavaliers got several putbacks on misses that eluded St. Henry defenders. Kara Uhlenhake had six offensive rebounds on the night.
"I think it's the same story (as the Fort Recovery game last Thursday)," said Roessner about the trouble boxing out Coldwater players. "If you can't get defensive rebounds in this league, you can't play. Simple. That's it."
"At halftime, we had nine offensive rebounds," said Coldwater coach Nick Fisher. "That's just huge.
"Anytime you can beat someone on the boards like that, it just takes possessions away from them and creates possessions for yourself."
It showed early as the Cavaliers were able to jump out to an 18-5 lead on the Redskins in the first quarter and Coldwater was up 20-9 with 61/2 minutes to go in the second quarter. The Cavaliers, however, suffered a cold spell, shooting a chilly 2-of-16 from the field in the second quarter.
St. Henry responded quickly, going on a 10-0 run to cut the Coldwater lead to 20-19 with 3:15 left in the half. Richelle Muhlenkamp, who earlier hit two big three-pointers to extend the Cavaliers' lead, sank a two-pointer to put the Cavs in front 22-19, but Kenzie Bruggeman and Becky Dirksen hit free throws in the final 1:25 to make it 22-21 at the break.
"First quarter, we shot the ball pretty well (7-of-16)," said Fisher. "Second quarter we didn't, but we'd get some second and third opportunities."
The coldness of the first quarter for the Redskins revisited in the third quarter. Quick baskets by Coldwater's Jess Schmackers and Katie Lefeld pushed the Cavaliers' lead to five in the first two minutes. Bruggeman got it back to a three-point deficit, but Coldwater scored the last seven points of the quarter to go up 38-25 going into the final eight minutes of the game.
"I thought we did a nice job of taking advantage of situations and getting some second and third shots too," said Fisher.
"Our zone press at halfcourt slowed them down a little bit," continued Fisher. "They threw the ball around and changed the pace of the game."
Just when it looked like Coldwater would start to pull away, St. Henry made a charge, getting as close as 48-43 with 1:56 left, but the Cavaliers made all six of their free throws in the final 1:27 to hold off the Redskins.
"We had turnovers that we didn't have to have," said Roessner, referring to the 20 St. Henry turnovers on the night. "It (the deficit) was down to six or seven with two minutes to go. We had to get a stop and a score, and we just couldn't find a way to get it done. Give (Coldwater) credit, down the stretch they made some free throws to put it out of reach."
Uhlenhake paced the Cavaliers with 15 points and 15 rebounds. Lefeld was 7-of-8 from the foul line to finish with 13 points while Richelle Muhlenkamp added 10.
Bruggeman scored a game-high 19 points and pulled down 10 boards to pace St. Henry while Becky Dirksen added 10 points.
Both teams are back in action on Saturday. Coldwater hosts Parkway in a rescheduled MAC contest, while St. Henry hosts Fort Loramie in a nonconference battle of Redskins.