Saturday, February 13th, 2010
Celina may seek financing to relocate part of Schunck
Intent is safety at entrance of West Bank Road
By William Kincaid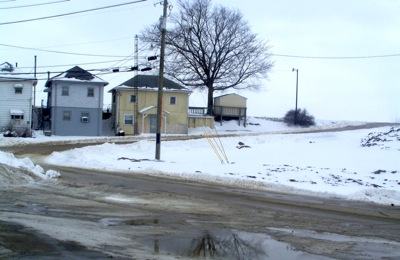 The City of Celina may pursue financing to relocate an ascending section of Schunck Road, Celina Planning and Community Development Director Kent Bryan said.
The proposal - which Bryan said has been in the works for the last four years - would clean up and make the entrance from Schunck Road to West Bank Road safer.
Currently, a section of Schunck road near the lake is paved over an elevation known as Sugar Street "hill."
Bryan has proposed to eliminate that part of the road and relocate it beginning near the entrance to the Mercer Health facility. The new road, according to Bryan, would take the form of an s-shaped curve and continue to West Bank Road.
The new road would be graded and the Sugar Street hill would be landscaped and seeded with grass.
The project would require the city to swap a small, 455-square-foot piece of property for a 0.15 acre triangle-shaped piece of land owned by Maureen Liette of St. Marys.
Bryan said a verbal agreement has been made with Liette - as dirt from various city projects now is being dumped on her land - with a formal, written agreement to be obtained sometime this spring.
When completed, the project would create a "nice, big entrance" to West Bank Road, Bryan said.
"It's just not a good situation," Bryan said about the current portion of Schunck Road, explaining that the relocation initiative is part of a redevelopment campaign that will enhance the aesthetics of the area.
Bryan also said city land near West Bank Road may be converted into a parking lot in the future to accommodate those wanting to access the walkway or to fish.
The proposed construction and installation of pavement, gutters, curbs and related road improvements along the portion of Schunck Road are estimated at $100,000.
Last month, council members decided against issuing and selling $100,000 in notes - in anticipation of the issuance of bonds to finance the project - because a formal agreement with Liette had not yet been secured.
City Law Director Kevin McKirnan agreed with councilman Ed Jeffries' concern about the land, explaining that a property agreement should be established before money is spent for the project.
Also in January, Celina Safety Service Director Rick Bachelor informed council members that the interest rate of such revenue notes had increased to 8.5 percent because of an unstable market.
Bryan said money for the project could be borrowed late this spring when the city also will seek funding for the Main Street reconstruction project.
The Schunck Road relocation project could start in late summer or early fall.