Tuesday, February 16th, 2010
Grand Lake has its own fan page on Internet site
By Janie Southard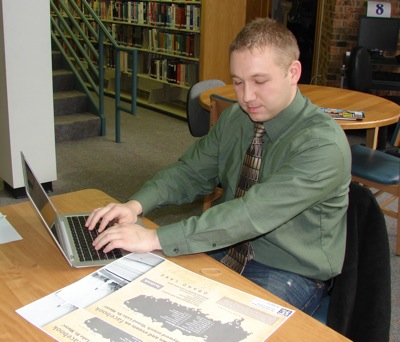 CELINA - At six years old, the online social network Facebook has 400 million users and includes posts about people, organizations and businesses. One of the newest additions is the Grand Lake St. Marys Fan page created by Celina native Brian Monroe.
A 2005 graduate of Celina High School, Monroe worked in graphic arts in Columbus before he returned home and started his own business, 2nd Click Media.
"Some of what I did in Columbus was to create business profiles. I've been waiting for someone to make a fan page for the lake. Finally, I thought I'd just do it myself. I've been on Facebook for more than five years and grew up in Celina, so I decided I was qualified," Monroe said.
The page (
facebook.com/grandlakestmarys
) has been in operation for less than a month and already the fan base has grown to more than 1,130. Access is free, so a Facebook account isn't needed.
"It's a good way to let people 25-34 years old know what's going on around the lake. I think it's a little harder for Seymour (the Web site tended by the Auglaize/Mercer visitors bureau) to keep up with changes," he said during an interview at the Mercer County Library in Celina.
The lake's fan page will benefit area businesses, festivals, fundraisers and other activities to get information out about their services/events. Plus, it's a good opportunity for Monroe to showcase his business.
"A lot of businesses create their own pages, but often they aren't using them to the greatest advantage. If they want to know how to do that, they can call me," he said by way of addressing what's in it for him.
In addition to the Wall, there are tabs for general information, 2010 events, map/directory and photos. The Wall is the equivalent of an electronic bulletin board. Monroe controls what goes on the Wall and fans can post comments. He sends updates about every second or third day.
Facebook users can write whatever they want, according to Monroe. "The (program) relies on users to keep the content safe for everyone. If you read something (offensive, vulgar, etc.) you flag it ... Actually, though, I've never seen anything too bad," he said.
Facebook was created by Mark Zuckerberg to communicate with his fellow students while he was a sophomore at Harvard University. Over the years, it has expanded to anyone older than 13. The name came from Zuckerberg's prep school, which routinely put out a student directory listing all students' names, interests and mug shots. The directories are often called face books.
Users open an account, at no cost, and may create their own page with photos, journaling, blog-type themes and interests. They can also communicate publicly or privately with others and join interest groups.
Monroe has been fascinated with the Internet since his parents got access to it in the mid-1990s and almost immediately began to "dabble in graphics." Over the years, this computer whiz said he's learned the main hurdle is that some days nothing is running as it should.
"With computers, you have to have patience," he said.