Friday, February 19th, 2010
God's warrior in Afghanistan
Versailles priest serving in fierce combat region
By Shelley Grieshop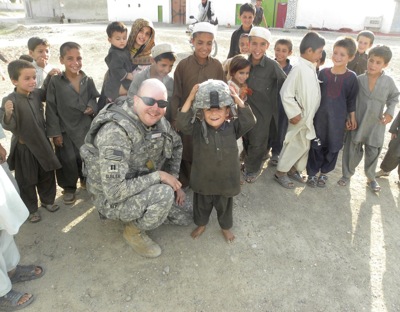 The dark sunglasses and camouflage clothing work their magic as Carl Subler goes about his mission in Afghanistan.
The U.S. Army captain blends in well in the stark, war-torn land, just like his comrades, although Subler's focus each day is considerably different than theirs. The 34-year-old Versailles native is a Catholic priest giving spiritual guidance in a military zone.
"I work in a logistics battalion, which means we're a trucking company with guns," he recently told The Daily Standard via e-mail. "We run supplies such as food, ammo, water and parts out to all the smaller areas to support the troops that are doing the fighting."
On Thursday, Subler sent a message to the newspaper saying his battalion was heading from the Helmand Province to Marjah, the last-known stronghold of the Taliban in Afghanistan. He hoped to meet up with a friend from home, Dustin Kaiser - a 2006 Versailles High School grad - who is a sniper with the men of Bravo Company, he wrote.
Subler, the son of Denis and Nancy Subler, frequently performs missions in helicopters, Humvees and Strykers (8-wheeled armored combat vehicles), which are prime targets for the Taliban's snipers and improvised explosive devices (IEDs). As chaplain, his duty to God and his country often puts him in harm's way.
"I probably won't forget the time I was on my way to celebrate Mass at an outpost and we stopped the Stryker convoy to recover a vehicle. After being on the ground for awhile, the Taliban popped out of a cornfield and started shooting their machine guns and grenade launchers at us," he wrote.
He said he was never much of a track star in school but found out just how fast he could run while sprinting for the safety of the armored Strykers that day. As a chaplain, he doesn't carry a weapon.
"Any time I might have need for one there are plenty of infantryman around," he added.
Tom Donnelly, a retired teacher who once taught and coached Subler years ago, has been exchanging e-mails with him for months. He's noticed a change in the tone of his recent letters, he said.
"He's definitely feeling the pressure right now," he said. "But I'm sure it's not stopping him from doing his job."
Donnelly said he was surprised several years ago when he heard Subler had entered the military.
"He certainly wasn't some macho man. He was a scrawny little guy," he said.
Donnelly was even more surprised when he learned Subler was ordained a priest in June 2004. The student he remembers was ornery and enjoyed "pursuing the girls" in high school, he said with a laugh.
Subler initially enlisted in the Navy in the 1990s and was deployed several times to the Persian Gulf, serving as a radar operator. In 2002, he entered the Army Reserves. After his ordination as a priest, he served the parish of St. Frances de Sales in Newark for three years before returning to active military duty.
Subler has been in Afghanistan since July 2009 and expects to finish his tour this July "but the needs of the Army outweigh our hopes," he added in a recent e-mail.
His day-to-day duties include going to the front lines to celebrate Mass and hear confessions from the Catholics he is able to find. He also performs the sacraments of Baptism and Confirmation, gives counseling and processes marriage annulments.
"I also spend a good deal of time at the hospital anointing the wounded soldiers, and I go to the morgue to bless the bodies of the dead soldiers," he added.
Comforting injured and dying soldiers is a big part of his life.
"Some times are more difficult than others," he said.
The men and women he finds at death's door are often unconscious, he said. He simply anoints them with the Oils of the Sick, formerly called the Last Rites.
"For the ones who are wounded, often amputees, it is generally better not to say too much. Simply stopping by and seeing them for a few minutes is better unless, of course, they want you to stick around and talk," Subler said. "Most of the time they are in enough pain, they don't want to talk too much . . . I can't blame them."
He said his love for the priesthood has blossomed during his tour and he's excited about continuing his mission when he returns to American soil.
What does he miss the most right now?
"Riding my motorcycle down the road without having to worry about roadside bombs," he said.