Friday, February 19th, 2010
Flyers claim outright MAC championship
By Randy Bruns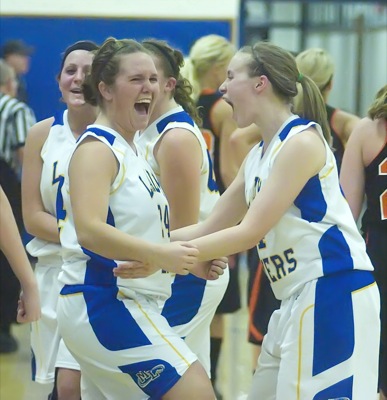 MARIA STEIN - Last Saturday the Marion Local Flyers sewed up a share of the Midwest Athletic Conference title despite having two starters out with injuries.
On Thursday night, the Flyers were even more short-staffed but they put on a workman-like performance and grabbed the MAC crown all for themselves.
Marion pushed out to an early lead and turned away a late comeback effort by the Coldwater Cavaliers to hold on for a 40-32 victory at The Hangar.
The Flyers finish their MAC slate with a perfect 9-0 mark and move their overall record to 16-3 with one game remaining. The Cavaliers fall to 11-7 on the year and 5-4 in league play, with tournament action up next.
Marion Local senior Ashley Lochtefeld sat this one out with a knee injury, joining fellow starters Katrina Brand and Alyssa Winner on the walking-wounded list. As a result the Flyers' depth took another hit, but the remaining players stepped up their games and provided a convincing - if not pretty - victory.
Marion held a slim 4-2 advantage early in the game when both squads went into a deep freeze offensively. Four minutes of action later, the score was still the same until Rachael Puthoff canned a trey to put the hosts up 7-2.
The offense didn't improve much for either team throughout the rest of the first half, as Coldwater suffered through shooting struggles and Marion couldn't hang onto the ball. The visitors shot a frigid 10 percent in the first half while the hosts committed 13 turnovers in that span, but Marion held a 15-6 edge at halftime.
In the third quarter the lid came off the basket and both teams went on relative scoring sprees with 10 points each, but the drama didn't come until the final frame.
The Flyers built an 11-point lead with five minutes remaining, but the Cavaliers came storming back. Katie Lefeld scored four quick points for the Cavs, and after a bucket by the Flyers' Puthoff, Jess Schmackers and Rachel Geier each hit jumpers to bring the visitors back within five at 33-28.
Coldwater later pulled within four points and forced a Marion turnover with a minute left, but it couldn't dent the deficit. Puthoff then took care of business at the foul line by hitting four-of-five down the stretch to give Marion its eighth MAC title.
"Give all the credit to the girls," said Marion coach Treva Fortkamp. "They wanted it and they played their butts off. Then the kids off the bench that don't always see a lot of playing time came in and stepped it up a couple notches. At times we didn't have a lot of experience out there and you see some mistakes, but I don't doubt the effort they gave. These girls are just amazing, and we've got great leadership from our seniors."
Coldwater coach Nick Fisher, who saw his squad shoot 24 percent for the night, including 0-for-16 from behind the three-point arc, thought things may have been different if a couple shots would have gone in.
"We've got kids that can shoot the ball, but for whatever reason they just wouldn't fall tonight," said Fisher. "I told the girls that with tournament coming up I was happy with our effort. We did the things that we talk about and that we need to take care of, but the shots just wouldn't fall for us."
Puthoff came up big for the Flyers in her final game at The Hangar. The senior not only scored a game-high 18 points but also pulled down 10 rebounds for her first career double-double. Chelsea Winner joined Puthoff in double digits with 10 points.
The Cavaliers were led in scoring by Lefeld's 14 markers, while Kara Uhlenhake led all rebounders with 16 caroms.
Coldwater begins Division III tournament play on Tuesday at Van Wert where it will take on Paulding. Marion finishes up its regular season on Saturday with a make-up game at St. Marys before starting the Division IV tourney at Wapakoneta on Saturday.