Tuesday, March 9th, 2010
From Mercer County to Grenada
Local 4-H official, church members take program to island
By Nancy Allen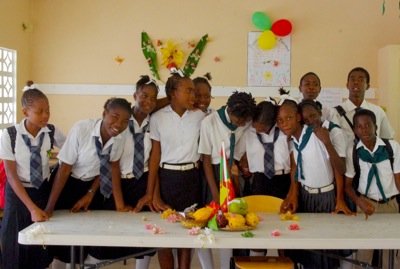 A group of people from Mercer County is helping a school on the Caribbean island of Grenada beef up its 4-H program to give the people there agriculture leadership and life skills.
About a year ago Sue Wills and Rosie Hager, both members of St. Paul's United Methodist Church in Celina, met with Barb Phares, OSU Extension educator for 4-H Youth Development, about mission work they were doing in Grenada. Church members have been helping the people of Grenada rebuild after Hurricane Ivan destroyed 90 percent of the island's industry in September 2004.
"We had been going over there since Ivan and doing reconstruction and we were at the end of that five-year commitment and we met some ag people and we were trying to find a way to help them," Wills said. "I looked at Mercer County, the 4-H program and thought it would be a good fit for them."
Wills said a school the church worked with, the Christian Academy, had an after-school 4-H group for a number of years prior to the hurricane. Phares used her connections to get a 4-H curriculum, official 4-H clover leaf flag, banners, project books, backpacks and other supplies, all free, for the Christian Academy in the city of Pearls.
From Jan. 25 through Feb. 4, Wills and four others from St. Paul's traveled to the school to deliver the supplies and talk with the school's principal and 4-H adviser.
Wills' group also took portable sewing machines donated by church members, fabric and a project booklet created by Hager on how to make a drawstring bag so 4-H members could get started right away on their first individual project.
Wills said children in St. Paul's Sunday school collected money to buy each of the 20 students in the Christian Academy 4-H Club a baby chick, which they will receive in May. In July another team from the church will travel to Grenada to hold a small fair so the children can showcase their individual 4-H project and receive ribbons. Projects will include the chickens they have raised, sewing, food and arts and crafts projects.
In Grenada 4-H programs are not nearly as structured as they are in the U.S., Wills said. The programs are run through the country's government and offered to children as an after-school program. The children typically do not do individual projects.
In the U.S. 4-H clubs are independent of schools and meet once a month with elected officers and volunteer advisers. Each child chooses an individual project, which they work on to take to a fair.
For the next few years, St. Paul's church hopes to send three teams a year to support the 4-H program in Grenada. Next year the 4-H children will move on to raising goats, sheep and rabbits, Wills said.
On the island with a population of roughly 108,000 and 50 percent unemployment, the people would benefit from being able to raise their own food and learning skills that help them make a living. Wills believes helping the Christian Academy enrich its 4-H program could help.
About 90 percent of the island's inhabitants are descendants of African slaves brought to the island by the British and the remaining 10 percent are of Caribbean, South Asian and European descent, information from the U.S. Department of State Web site states.
Wills said the church is looking for anyone interested in making trips to Grenada to strengthen the school's 4-H program. Volunteers need not be members of St. Paul's church.
Phares, Mercer County's extension educator for 4-H Youth Development for almost 29 years, said she was glad to help.
"They're looking to teach them life skills that they can turn into business skills so they can support themselves when they grow up," Phares said. "That's pretty neat."

4-H history:
The close to 800 youths who participate in the 32 4-H clubs in Mercer County owe the start of the organization to various people across the U.S. who were concerned about young people in the early 20th century.
This week marks 4-H Week across the Buckeye state.
According to the 4-H Web site, it was around this time that the seeds of the modern day 4-H organization were planted.
The 4-H idea of practical and hands-on learning came from the desire to make public school education more connected to country life.
During this time, researchers at experiment stations of the land-grant college system and USDA saw that adults in the farming community did not readily accept new agricultural discoveries. But, educators found that youth would experiment with new ideas and then share their experiences and successes with the adults.
So rural youth programs became a way to introduce new agriculture technology to adults. A.B. Graham started one such youth program in Ohio in 1902. It is considered the birth of the 4-H program in the U.S. When Congress created the Cooperative Extension Service at USDA in 1914, it included boys' and girls' club work. This soon became known as 4-H clubs. In the 1950s, 4-H began to extend into urban areas.
Later, the basic 4-H focus became the personal growth of the member. Life skills development was built into 4-H projects, activities and events to help youth become contributing, productive, self-directed members of society. The organization changed in the 1960s, combining 4-H groups divided by gender or race into a single integrated program.
- Nancy Allen