Monday, March 1st, 2010
Cardinals slip past the Indians
MAC championship gets split three ways
By Ryan Hines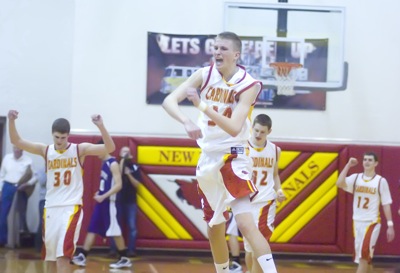 NEW BREMEN - Three teams get the chance to celebrate a Midwest Athletic Conference boy's basketball championship, but only one felt like celebrating on Saturday.
New Bremen made it a three-way tie for the MAC crown after scoring the final eight points of the game in a 50-47 win over Fort Recovery on Saturday afternoon at Cardinal Gymnasium.
The Cardinals' win means that New Bremen, Fort Recovery and St. John's all tie for the MAC crown with matching 7-2 records in league play. Fort Recovery and St. John's had chances to win the MAC title outright, but the Cardinals knocked off the Indians and Coldwater beat the Blue Jays, 44-23.
The emotions from New Bremen head coach Mike Ernst and Fort Recovery head coach Brian Patch couldn't have been much more different.
"I didn't give us a snowball's chance in you know where on Monday. I just wanted to go out and beat two good teams and get ready for tournament. This is a great accomplishment for our guys and they worked so hard to get here," said an elated Ernst. "We didn't take the easy way, that's for sure, but there are three very deserving teams that won the league this year. Not sure how we did it, but we did just enough to get the job done."
It's a devastating loss for Fort Recovery, which heard over the speakers prior to the start of the fourth quarter that St. John's had lost, and an outright championship was within reach for the Indians.
"The tough part is that we knew Coldwater beat St. John's and we had a five-point lead late with the league title sitting there for us all alone and we didn't get the job done," said Patch. "Winning a share of the league is a great honor and we are excited to win our second in school history, but it doesn't feel like we won anything today."
Fort Recovery looked like it was in control at the 3:01 mark of the fourth quarter with a 47-42 lead following a pair of free throws from Greg Kahlig, but that's when New Bremen made its move.
Caleb Williams pulled the Cardinals to within three points on a pair of free throws and Andy Timmerman canned a pair from the charity stripe despite a fire alarm going off and delaying the game for several minutes between Timmerman's two tosses.
Not even the fire alarm was enough to stop New Bremen as offensive execution began to hamper Fort Recovery. Wade Gelhaus missed a short power move close to the basket for Fort Recovery and the Indians turned the ball over on their next possession while Timmerman again went to the free-throw line and made two more to make it 48-47 in favor of New Bremen with 1:10 on the clock.
Fort Recovery had a chance to retake the lead, but Kahlig missed a pair of jumpers and Timmerman was fouled on the ensuing rebound with 29.6 seconds to play. Timmerman then hit one-of-two to give the Cardinals a 49-47 advantage.
Offensive execution hurt Fort Recovery again the next time down the floor as Timmerman stole the ball with six seconds left in the game and went to the charity stripe with a chance to seal the win for New Bremen.
"We missed a couple of close shots that we usually make in the final two minutes and we also turned it over a couple of times as well and New Bremen took advantage of the opportunities," said Patch. "You can't make the mistakes that we made at the end and win a tough game like this. If we just take care of the ball and execute on offense, we could have won this game."
Timmerman only made one of the two free throws, but Fort Recovery's Jason Pottkotter missed an open three-pointer as the buzzer sounded and the Cardinals' student section began to celebrate New Bremen's win. Timmerman was scoreless in the game until hitting six-of-eight from the free-throw line in the final two minutes of play.
"Andy's not our leading scorer and doesn't do a lot of things that the average fan notices, but we cannot lose him," said Ernst. "He's our leader and he led the way for us down the stretch and we needed him to make those plays for us. He doesn't get enough credit for what he does for this team."
"A lot of things fell our way for us to win the league and it feels so good that we were able to take care of our business and reach our goal," said Timmerman.
Clay Heitkamp gave New Bremen a huge lift from the perimeter as the 6-7 forward hit four-of-eight from behind the three-point line on the way to a team-high 18 points. Justin Eilerman also scored in double figures for New Bremen with 12 points.
Kahlig solidified his reputation as the best player in the MAC with a game-high 30 points, on 11-of-17 shooting from the field.