Friday, March 12th, 2010
Spina bifida does not limit St. Henry boy from serving
By Betty Lawrence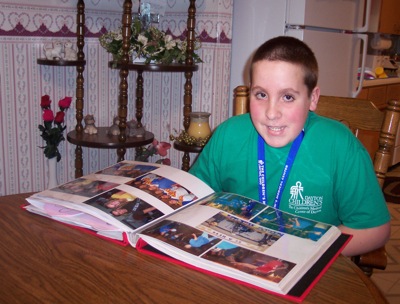 Mitchell Franzer's big brown eyes lit up as he leafed through the scrapbook that catalogues nearly a year of service as a youth ambassador for The Children's Medical Center of Dayton
Franzer has represented the children's hospital at numerous fundraising events and programs locally and in the Dayton area.
He was named one of the hospital's four youth ambassadors at the Children's Miracle Network Telethon in May 2009. Franzer's doctor, Dr. Donald Nguyen, nominated him for the honor noting the young boy's positive outlook on life despite many major operations due to his spina bifida.
A framed photograph of Franzer joins pictures of the other youth ambassadors on a designated hallway in the hospital.
"Being an ambassador has been awesome. I have been able to do many things and it all helps the hospital," the St. Henry sixth-grader says.
Franzer also beams as he talks about golfing, helping with chores on the family farm along Carthagena Road and busting a move at a dance marathon pizza party put on by the University of Dayton as a fundraiser for the hospital.
"It was a lot of fun. I was getting wild," he says.
"Getting wild" for Franzer is miraculous considering his family was told that he would never walk because of his spina bifida.
His first fundraiser was participating in a golf outing put on by the Optimist Club in Centerville. Since then, he has made several guest appearances including a Dayton Dragons game, a Holiday Walk in Centerville and a radiothon fundraiser by a Dayton radio station. An inspirational CD featuring the young boy and his family recorded during the radiothon now has a special place in the family's media room.
Locally, he was a guest at a Casino Night fundraiser in St. Henry for the children's hospital, and on Sunday he will be riding in a convertible at the St. Henry St. Patrick's Day parade.
His parents, Bill and Sandy Franzer, his sister, Holly, and brother, Chad, have often joined in to support him in the fundraisers.
"We help with the fundraisers as a family. Mitchell spent the first weeks of his life at Children's hospital and has had many surgeries. We can't say enough about how great the doctors and the hospital have been for us over these past years," Sandy Franzer says, quickly thanking friends, neighbors and family members for their constant support.
He still makes periodic trips to the hospital for check-ups, but "he's doing just great," adds his proud father.
The scrappy young man is a member of the St. Henry Buckeye Lads and Lassies 4-H Club and plans to show a hog at the Mercer County Fair. He has aspirations to be a farmer like his dad, he says.
A video of Franzer making appearances at several fundraisers, along with clips of his family and the farm, will be shown in May at the 2010 Children's Miracle Network Telethon.
The year has flown by fast, and although he will relinquish his title this summer, he will always represent the hospital as ambassador, he says.