Monday, March 15th, 2010
Celina wins first district championship in 36 years
Division II Boys District at Ohio Northern University
By Ryan Hines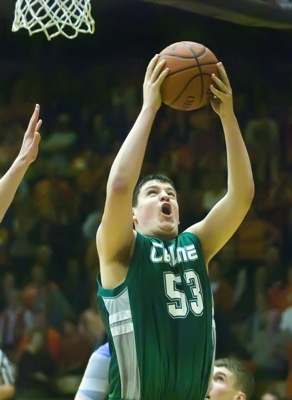 ADA - For the first time in 36 years, the Celina boys basketball team can call itself district champs.
And it came in dramatic fashion.
Greg Riemesch delivered the game-winner for Celina with two seconds left in the game and the Green and White escaped Ohio Northern University with a 54-53 win over Elida in the Division II district final on Saturday night.
"This is a huge win for us and our program," said Celina head coach Chris Bihn. "We beat a good team in Elida to win this title and it feels good, especially since they beat us by one earlier in the regular season. Anytime that you can win any type of championship, it's a great thing."
Celina (15-8) will now play in the regional tournament for the first time since the 1973-74 season on Thursday night against Lorain Clearview at 6:15 p.m. at Anderson Arena on the campus of Bowling Green State University. Defiance and Port Clinton will play in the other BGSU regional semifinal at 8 p.m.
The players all looked proud to be wearing the district championship medals around their necks and Riemesch was happy to ensure that it happened. However, Riemesch couldn't have been the hero without a great assist from John Homan.
After a Celina timeout with just nine seconds left in the game, Homan grabbed the inbounds pass and drove into the middle of the lane before delivering a beautiful bounce pass to the left block for a wide open Riemesch, who banked in the game-winner with two seconds left.
"I got the ball and saw a wide open lane to the hoop and then Greg's guy stepped up on me and I gave him a little bounce pass and he finished it," said Homan.
"We got over things like this in practice and John did a good job of penetrating and finding the open man," said Riemesch, who scored four points in the game. "It was a great effort by our team, we never gave up."
The final two seconds were certainly anxious moments for Celina fans as Elida's Michael Knotts fired a baseball pass three-quarters of the way down the floor to Matt Thompson, whose three-pointer at the buzzer was right on line but bounced off the front of the rim.
"It seemed like it was in the air forever," said Bihn of Thompson's final shot at the buzzer. "It was tough to watch."
"What a tremendous high school basketball game and what effort put out by both teams," said Elida head coach Denny Thompson. "I just can't say enough about both teams' effort. It just summarizes the type of basketball that is played around this area. I applaud both teams."
It was a wild finish to a game that featured two evenly-matched teams from the Western Buckeye League.
The two best players in the WBL put on a strong showing as Celina's Darin Waterman went toe-to-toe with the reigning league Player of the Year in Elida's Reggie McAdams. Waterman scored a game-high 20 points while McAdams hit for 18 points.
The role players also stepped up as well on both sides as Homan had 14 points in addition to his game-winning assist while Scott Moeder drilled a trio of three-pointers for nine points.
Desmond Ragin scored 14 points for Elida while Knotts scored 10 points.

TICKET INFO - Presale tickets for Thursday's regional semifinal at Bowling Green State University for the Celina boys basketball team will be sold in the high school athletic office on Tuesday, Wednesday and Thursday. Team members and cheerleaders can buy tickets from 5 p.m. to 6 p.m. tonight. High school students can buy one ticket each on Tuesday, Wednesday and Thursday from 10:30 a.m. to 1 p.m. Celina season-ticket holders can buy one ticket person season ticket on Tuesday from 10:30 a.m. to 2 p.m. and from 6:45 p.m. to 8 p.m. Celina faculty and staff can buy two tickets per person on Tuesday and Wednesday from 2 p.m. to 4 p.m. General public can buy tickets on Wednesday and Thursday from 7 a.m. to 2:30 p.m. Tickets are $6 presale and $8 at the game. Celina will receive 20 percent of the presale tickets sold.