Wednesday, March 17th, 2010
Indians slip past Panthers in overtime
Division IV Boys Regional at Kettering Fairmont
By Ryan Hines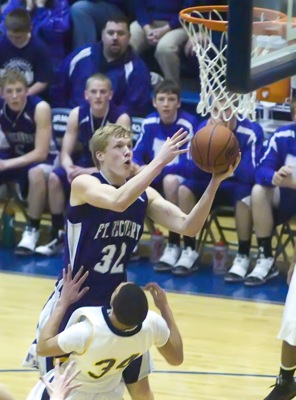 KETTERING - Survive and advance is the rallying cry for most basketball coaches in the postseason.
Fort Recovery did just that on Tuesday evening in Division IV regional semifinal action as the Indians placed four players in double figures and slipped past Lockland, 61-51, in overtime at Kettering Fairmont High School.
The hardfought victory lands Fort Recovery (21-3) in Friday's regional final at 7:30 p.m. against Dayton Jefferson, which beat Fort Loramie 50-45 in Tuesday's other semifinal.
Fort Recovery struggled the entire first half, shooting just 5-of-23 from the field with eight turnovers and Lockland jumped in front early with a seven-point advantage after one quarter of play.
Craig Tobe and Cody Fiely helped the Indians crawl closer to the Panthers in the second quarter and Lockland had to settle for a 17-15 lead at halftime.
"We came out and we didn't think that we played very well, probably our worst basketball of the year so far, and I told them that we fought to be down by just two at halftime," said Fort Recovery head coach Brian Patch. "I don't think that we ever shot as bad this season as we did in the first half."
It was a different story for the Indians in the second half as the offense began to heat up. After shooting just 22 percent in the first half, the balance of the Indians began to stand out and Fort Recovery shot 17-of-33 in the second half of play.
"The shots were no different in the second half, they just started to fall for us," said Patch. "Maybe a little nerves in the first half, but we just started to step up and make plays."
Lockland's lead was 26-22 at the 3:03 mark of the third quarter when the momentum started to swing in the Indians' favor. Fiely and Wade Gelhaus completed back-to-back old-fashioned three-point plays and Greg Kahlig drove strong to the hoop for two and suddenly Fort Recovery was holding a 30-26 advantage.
Kahlig, the Division IV northwest district Player of the Year averaging over 26 points this season, started the game shooting just 2-of-12 in the first half for six points but he helped lead the charge for the Indians in the fourth quarter. Kahlig had nine points in the first four minutes of the fourth quarter and the Indians stormed in front to what seemed like a comfortable 45-37 lead.
"I think I struggled as much as I did in the first half, just trying to adjust to this arena and this atmosphere," said Kahlig. "I missed a lot of shots that I normally hit in the first half. I just had to stick with it and they started to fall more regularly in the second half."
However, Lockland scored the next seven points of the game, capped by a Terrance Calhoun three-pointer that left the Panthers down 45-44 with just 3:31 left in the game.
Lockland could never take the lead from Fort Recovery the rest of the way in regulation, but did tie the game on two different occasions, including at 53-53 after a pair of free throws by Frankie Young with 6.7 seconds left on the clock.
Fort Recovery had to go the length of the floor on the final possession of regulation and Kahlig was double-teamed after receiving the inbounds pass, so he passed the ball ahead to Fiely, who tossed it to Gelhaus as the buzzer sounded before he could get off a shot.
The Indians started the overtime session strong, scoring six of the first seven points on layups by Kahlig, Gelhaus and Michael Gaerke for a 59-54 lead. Lockland got another trifecta from Calhoun to pull the Panthers within two points at 59-57, but Tobe scored on Fort Recovery's next possession and the Indians held on for the win.
"We were able to battle back and be resilient and we have kids that want to win. We made just enough plays to get the win," said Patch. "We battled through the ups and downs and that's what we're most proud of in this game. We knew they were good, but we just continued to battle."
Balance keyed the win for Fort Recovery as Kahlig rebounded from the rough first half to finish with 24 points while Tobe and Fiely each had 12 points to go along with Gelhaus' 11 points.
"We got a lot of big plays from a lot of different people and it was just a great team effort," said Patch. "We needed everything that we got from all of our guys tonight to get this win. Guys have stepped up for us throughout this tournament and that's the sign of a good team."
"We had scouted them against Ottoville at Wapak and we knew that guarding Kahlig and Tobe would be tough, but they got a lot of contributions from a lot of different people," said Lockland head coach Paul Andrews. "We were more worried with their three-point shooting, but they really hurt us with penetration into the middle and they all were doing it."
Young led Lockland with 22 points, but shot just 7-of-26 from the field, including just 3-of-14 from three-point range.