Thursday, March 18th, 2010
Combination parking will go on Main Street in Celina
By William Kincaid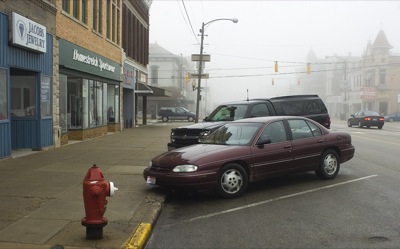 There will a combination of parallel and angled parking along Main Street when its reconstruction is complete, Celina Community Planning and Development Director Kent Bryan said.
Main Street parking has been a hot topic for downtown business owners, many who showed up at council meetings saying they didn't want to lose angled parking.
Celina Downtown Manager Deb Borns this morning said the decision was made by city administration and was discussed at a Celina Merchants Association meeting earlier this month.
"I think everybody in the discussion (including business owners) thought that was an acceptable compromise," she said.
The plan is for angled parking on two blocks of Main Street from Fayette to Livingston streets, with all other parking to be parallel. The Main Street reconstruction project will be done in two phases, with some work yet this summer and fall and the remaining completed next spring.
Bryan said some people were under the impression that Celina City Council would vote on what type of parking to allow along Main Street. The only vote council made was in February 2009 when it approved the future width of Main Street at 70.5 feet, which allows for either parallel or angled parking, Bryan said.
No vote on parking styles was taken by council members.
In April 2009, council members denied a request to vote on what type of parking to install downtown.
Bob Heitkamp, owner of Gamarama at 121 S. Main St., said he is happy with the decision to put angled parking in front of his business.
He had spoke out at past council meetings, saying parallel parking would be bad for business. He had said 23 of 24 business owners he contacted were against parallel parking downtown.