Thursday, March 18th, 2010
Officials: dead fish a natural occurrence
By Nancy Allen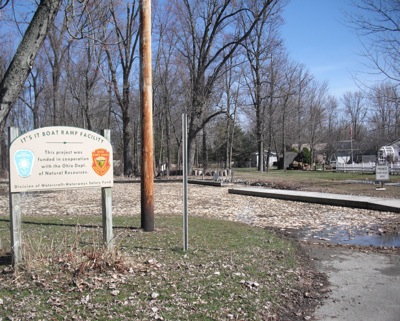 The large amount of dead fish, mostly shad, in Grand Lake channels is a natural occurrence after this winter's prolonged ice and snow cover on the lake, state officials say.
Grand Lake St. Marys State Park employees said they started getting calls about dead fish a week ago.
"This is a natural cycle because of the long period of ice and snow on the lake and the oxygen levels get pretty low," State Park Manager Craig Morton said. "This is not something caused by a pollution spill or anything like that."
Doug Maloney, Ohio Division of Wildlife fish management supervisor, said shad are a weaker species of fish and they react adversely to abrupt temperature changes, extended periods of cold water and low oxygen levels. Maloney noted there have been some reports of dead freshwater drum fish on the lake this year too, but said it's not unusual because they are plentiful in the lake.
"Just by the nature of their species, they (shad) tend to die from certain stresses that other fish tend to just push their way through and survive," he said.
Shad are small, silver fish often preyed upon by larger fish. They are the most plentiful species in the lake, Maloney said. In the late 1940s so many shad died that there were piles and piles of them washed up on the shore, he added.
Morton said the fish kill actually isn't as bad as last year's when dead shad washed up along much of the lake's shoreline. This year's kill seems to be concentrated in enclosed areas such as channels and bays.
"Here's the worst," Montezuma Acres resident Bob Garman said gesturing across a channel where people put their boats in next to It's It Bar and Grill. "You should have seen it on Sunday, there were three times as many out here."
Garman, who owns It's It Bar and Grill, said customers have complained about the stench and wondered why the state can't clean up the dead fish. Morton said he has fielded calls from people asking the same question.
With 52 miles of shoreline, it would be a job beyond the capabilities and expense the state park staff could perform, Morton said.
State park officials will clean up public boat launch areas if they get packed with slippery fish to keep those areas safe, but officials won't clean any areas beyond that.
It will take a few weeks for the dead fish to decompose and sink to the bottom of the lake, Morton said. Critters such as other fish, raccoons, sea gulls and turkey vultures also will help by eating some of the dead fish, Maloney noted.
"Normally each citizen is responsible for cleaning up their area of shoreline and they do with other things like sticks and stuff that washes up," Morton said. "It's just that this issue is a little smellier and nastier and people don't like to clean it up."