Saturday, March 20th, 2010
Berlin Hiland rallies past Minster
Division IV Girls State Semifinal in Columbus
By Gary R. Rasberry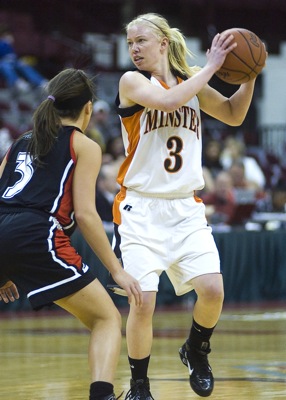 COLUMBUS - The back-and-forth nature of the Minster-Berlin Hiland game meant that whomever had the best chance at a final shot would come out with the win.
Hiland had the best chance, Minster just missed.
Katelyn Stuckey's layup with 18 seconds to go in the game put the Hawks up 49-48. The Wildcats' last-second chance fell short, sending the Hawks to the Division IV girls state basketball championship game for the second straight year at the Schottenstein Center on the campus of The Ohio State University.
Hiland (25-2) will face Harvest Prep today at 5:15 p.m. in the state final. The Warriors (26-1) rallied from 18 points down with a 22-1 run over the final 10 minutes to eliminate Fort Loramie, 49-46, in Friday's other Division IV state semifinal.
Minster, making its third trip to the state final four, sees a 12-game winning streak snapped while finishing the season 18-8.
"I could have predicted it was going to be a battle from the beginning," said Hiland coach Dave Schlabach. "We have so much respect for Nann (Stechschulte) and her program. A very similar game to 2004 (state semifinal that Minster won). We tried a lot of different things and they're so good defensively, so well coached."
The Hawks grabbed the lead midway through the third quarter. Hiland's biggest lead was five points in the third quarter at 30-25 before Minster pulled to within one at 32-31 going into the final stanza.
Hiland got a bucket by Division IV co-Player of the Year Hillary Weaver with 21 seconds gone in the fourth quarter to go up 34-31, but Minster's Kayla Wuebker drilled a three-pointer seconds later to tie the game at 34-all.
After a Hiland miss, Erica Fullenkamp got a stickback to put Minster into the lead at 36-34.
Hiland took a brief lead at 39-38 and was tied at 41-all before the Wildcats got a burst of offense, scoring seven straight points on a bucket and two free throws from Delanie Wolf and a three-pointer by Maria Dahlinghaus that gave Minster its biggest lead of the game at 48-41 with 2:50 to go.
Unfortunately, that would be the last points Minster scored in the contest.
Stuckey scored on a layup for the Hawks to cut the Wildcats' lead to 48-43. Minster turned the ball over on its next two possessions, allowing Noelle Yoder to score on a tip-in to make it 48-45 with 1:55 play in the game.
The Hawks got to within one point at 48-47 when Jessica Stutzman hit a pair of free throws after making a steal.
With 33 seconds left, Fullenkamp was fouled and went to the line for two free throws, but missed both and Stuckey got the rebound for Hiland.
After setting up the offense, Yoder passed back to Stuckey, who got to the basket and hit the layup with 18 seconds to play making it 49-48.
"Just another layup," said Stuckey. "I didn't think too much about it. ... We always practice the guards driving (into the lane) to see if I'm ready for the pass. Just reading the defense."
Dahlinghaus worked the ball quickly down court and got the ball to Fullenkamp, who was swarmed quickly. Fullenkamp then passed to Clune, whose 10-footer at the buzzer fell short.
"We were supposed to inbound it to the wing, and she was supposed to slice through, but she wasn't open," explained Stechschulte of the final sequence. "Then I said 'Two-man game' and Erica was supposed to come up and get the ball. They had people smothering Erica and forcing her to the left. The pass was a kickback to Delanie, but they had three people on her. She went to Tara. I think it surprised Tara. She didn't have her feet set and rushed it."
Stechschulte added, "It came down to turnovers. We had 15, they had eight. They came at us the whole game. We knew that was going to happen anyhow."
Fullenkamp, playing on a sprained ankle, had a strong game with 12 points and five assists.
"Her ankle is incredibly purple by her toes on both sides. She played a gritty game. A real gutsy game," said Stechschulte. "If you'd look at her ankle, you'd be surprised by what she did out on the court."
Dahlinghaus added 12 points with Wolf getting a double-double with 11 points and 10 rebounds.
Weaver scored 12 to pace the Hawks while Yoder added 11 points.
"We were so thankful for the opportunity to be here," said Dahlinghaus. "Nann said in the locker room we could taste the win, but it wasn't meant to be, I guess. Our community was out there, and they really came together for this basketball season. Something I never experienced."