Wednesday, March 24th, 2010
IC school seeks help to stay afloat
If finances don't improve, county's only Catholic school may close in '10-11
By Shelley Grieshop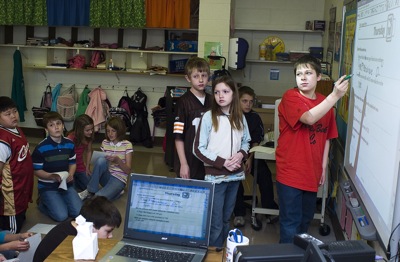 CELINA - Each morning, third-grader Maddy Luebke joins her classmates in prayer before diving into math problems and spelling words.
Maddy's parents, Rob and Carey Luebke of Celina, like the religious influence their daughter receives at Immaculate Conception School, including the Catholic symbols that decorate its aging hallways.
But rising education costs and decreasing enrollment could cause the church to shut the doors on the county's only Catholic school. Officials say new revenue must come or the school will close after the 2010-2011 school year.
"This has been a rude awakening," Principal Kathy Mescher says. "We opened our eyes to a strained financial situation, but I believe we opened them up in time."
Income for the 2008-2009 school year was $375,459, but expenses were $874,243. A portion of the approximately $500,000 debt was taken from the church's savings - and it wasn't the first time, according to a letter distributed recently to parishioners.
"If the trend continues, the parish's savings will be completely depleted by the end of the 2010-2011 school year," wrote Charlie Mescher, a member of the finance committee and brother of the principal.
Many Catholic schools across the Cincinnati Archdiocese are facing similar predicaments. In the last 10 years, 22 have closed due to falling enrollments and economics, according to archdiocese spokesman Dan Andriacco. IC is one of 92 elementary schools in the archdiocese, which covers a 19-county area.
After several years of serious financial trouble, a campaign kicked off at IC late last year to keep the school open. Committees were formed to increase revenue through enrollment, IC alumni, donor programs and fundraisers. Longterm commitments are the key, church officials say.
Weekly collections have averaged $11,400 for the last six years; parishioners are now being asked to beef up the collection plate.
"Now comes the time when wheels have to hit the pavement," senior pastor, the Rev. Tom Brenberger, says. "I can't promise it will be easy. Our stewardship will likely determine our future."
Many IC church projects and ministries have been put on hold for years while funding was diverted to the school, says Brenberger, who adds that trend can't continue.
"I have to think about the parish, too," says Brenberger, who explained the seriousness of the issue to his flock during Masses earlier this month.
Cost-saving measures have been implemented, including the freezing of salaries for school staff.
A year ago, congregation members were asked to fill out surveys about the school and explain what they felt was good, bad and important to them.
"The answers came back very positive," Charlie Mescher says.
Still, many families were concerned with the rising cost of tuition, he admits. The basic tuition this year is $4,070 per pupil, up 10 percent from last year. School officials calculate it costs them more than $6,000 to educate each of their 163 students from preschool to sixth grade.
Kathy Mescher has served as principal of the school for 18 years, but IC is more than just her job, she says.
"It's personal for me. I've lived here my whole life. I went to school at IC all 12 years and was in the last class to graduate from the high school before it closed," she says. "I've seen a lot of changes."
The teachers and administration work hard to give the students a complete education, she says.
"Our kids' test scores are great. They go on to high school with honors, they get scholarships ...," she explains in a passionate voice.
Education is a priority but so is the "faith foundation" the students receive, she says.
"The school gives kids a grounding in the Catholic faith, it teaches morals and a sense of values," Mescher says, adding she hears that message frequently from former students. "We give them something a public school can't."
Mescher says she's positive the parish's plan of action will work and "we'll get through this crisis and be stronger. We're at a critical point but certainly there is cause to be optimistic."
If the school would close, most children likely would transfer to the public school. Celina City Schools Superintendent Matt Miller says the additional students would be welcome.
"Our overall enrollment has been going down for some years now so it wouldn't be an issue," he says, explaining space is available.
Most elementary classes now have between 17 and 23 students; the state allows up to 23 (25 for one year only), Miller said.
After putting three other children through IC, Carey Luebke says she knows it's where young Maddie belongs.
"It's worth the tuition to us. I know we could have had a few extras over the last 13 years ... but we felt our children's education outweighed those things," she says. "We know how important the school is and we're not going to let it go down without a fight."

History of IC School:
• 1871 - the first parish school opened in a framed building near the church.
• 1878 - a two-story brick school was built on the corner of Wayne and Walnut streets. By January 1881, the school had an enrollment of 93 students.
• 1889 - a larger school was built on Wayne Street next to the former one, which became a parsonage.
• 1897 - ninth-grade was added to the school's curriculum. Three-year diplomas were distributed until 1925; students seeking four-year diplomas transferred to Celina High School for the final year.
• 1900 - the first class graduated from the new high school.
• 1917 - the school was razed due to inadequate space and a new one was eventually dedicated Oct. 5, 1919.
• 1925 - the high school curriculum was extended to four years.
• 1926 - IC High School received its charter from the Ohio State Department of Education.
• 1932 - increases in enrollment led to construction of a separate building for high school. Classes began in the new building with 114 students in September 1933.
• 1961 - construction of a new elementary school was completed.
• 1971-1972 - the decision was made to close the high school. On May 21, 1972, the last class of 42 seniors graduated. From 1926 to 1972, the school graduated 1,276 students.
• 2009-2010 - 163 preschool and elementary students up to the sixth grade are enrolled. School principal is Kathy Mescher and 12 full- and part-time teachers are employed.
- Shelley Grieshop