Wednesday, March 24th, 2010
Minster students learn what living in the real world costs
By Margie Wuebker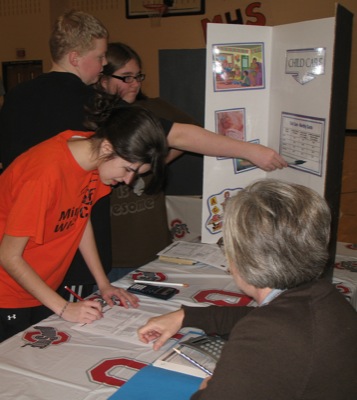 MINSTER - Armed with calculators, seventh- and eighth-grade students at Minster Middle School role-played what it was like to have an occupation, family and monthly expenses.
Real Money, Real World, an Auglaize County Extension Service program designed to teach students financial responsibility made its first visit to Minster on Tuesday.
During a preliminary session, eighth-grader Dominic Slonkosky drew from a hopper the job of geological and petroleum technician with an annual salary of $35,000. A wife, two toddlers and a monthly budget of just more than $2,900 completed his scenario.
Slonkosky carefully checked his budget after visiting a series of booths where he pretended to purchase food, clothing, child care, housing, utilities, insurance, entertainment and more. He plunked down $874 for child care, $500 in rent for a two-bedroom apartment and $224 for a monthly car payment.
"It costs a lot to live these days," he said.
Volunteer Lois Baumer manned the popular entertainment booth where students faced choices ranging from a three-day, two-night mini vacation costing $500 or a relaxing walk in the park for free.
Eighth-grader Wes Steinemann, a construction worker earning $32,800, wanted to visit an amusement park at $42 per person. With just $1.95 remaining at the end of the month, a free DVD rental from the library proved to be a better choice.
"I learned money goes real fast," he said. "Things seemed to be going good until I stopped at the chance booth (where students get an unexpected situation). My car got dented in a parking lot and the repair cost is $222."
Volunteer Barb Topp manned the clothing booth and smiled as a student expressed amazement at diaper costs - $68 for disposables and $19 for the cloth variety including laundry costs. The same girl also abandoned plans to purchase clothing from designers and exclusive stores in favor of going the thrift/discount store route.
Another surprise awaited at Marla Koerner's child care booth with costs ranging from licensed centers at $762 to home providers with a monthly $546 tab. Eighth-grader Samantha Osterfeld negotiated a better alternative with grandma providing care for her two infants at $150 per month.
Many students discovered it may be nice to purchase whatever they want with credit cards, but reality hits home in the form of a bill with interest on unpaid amounts. A professional making $60,000 per year, racking up bills totaling $5,516 and paying just the minimum of $140 per month, would need 11 years and four months to get out of debt, they learned.
Some students beelined to Joan Leffel's financial assistance booth to learn about second - and in some cases third - jobs to make ends meet. The options included fast food worker, store clerk and house cleaner.
Teacher Kurt Goettemoeller questioned students heading from one booth to the next.
"This may be all about make believe but it certainly carries a serious message," he said. "They quickly learn that education leads to larger salaries, and big homes and expensive cars are not as desirable as they once thought."
In classes leading up to the event, students learned there is a big difference in gross and net salaries thanks to such things as taxes, Social Security and health insurance.
Beth Miller, a 4-H educator, admitted she had the best assignment in the gymnasium. Not only did she hear what students learned, but she rewarded them with sweet treats. Those with positive balances earned a 100 Grand candy bar while the others facing red ink received a Hershey's Zero instead.
Some students admitted they now understand why their parents sometimes have no money for entertainment or jeans with designer labels.
Seventh-grader Gunner Blanke, who wound up with $249.59 to the good, smiled when asked what he learned during the exercise.
"Needs come before wants," he said. "A good used car is a better choice than a fancy sports car and there is nothing wrong with kids sharing a bedroom instead of having one of their own. It saves money in the long run."