Wednesday, March 31st, 2010
Celina church to offer free meals on Saturdays
'Harvest Table' to provide food, friendship to public
By Shelley Grieshop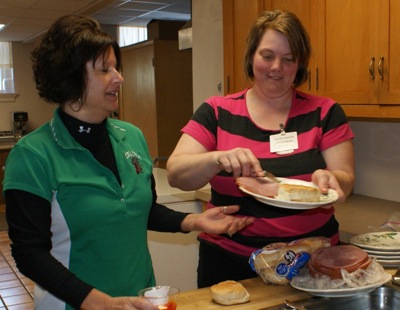 CELINA - A local church is offering a free weekly meal and fellowship to all area residents beginning Saturday.
"Harvest Table," as the ministry is called, will be 10 a.m. to noon each Saturday at St. Paul's United Methodist Church on Fulton Street in Celina.
Committee members stress this isn't just for those struggling financially, even though they admit there are plenty of local people who fit that bill.
"You don't have to be a member of this church or be needy. We just want people to come for a meal and some fellowship without feeling guilty about not paying," explained Jenny Snider, one of the program organizers.
The ministry is the first of its kind in Mercer County. Committee members are hoping to feed about 200 people this weekend but admit it's difficult to guess how many will arrive the day before Easter Sunday.
"We've projected our number with the average number of people that CALL (local food pantry) serves daily," Snider said.
The idea for the ministry has been in the works at the church for several years and is spearheaded through the church's "Matthew: 25" group. The Bible verse guiding the group is fitting: "Whatever you do to the least of my brothers and sisters, you do for me."
Chief cook and registered dietitian Brenda McGee said everyone has special times in their life when they'd welcome someone else's cooking and a show of friendship.
"My time was when my husband had a stroke," she said. "People were so kind, they brought us food. It really helped."
The church's associate pastor, the Rev. Kim Miller, said touching the community with "radical hospitality" is the goal. The committee and its nearly 70 volunteers continue to pray for the program's success, she added.
Funding for the food service ministry is mainly from the church, although several area businesses have donated items to the cause, Miller said. She also hopes to snag funds from the United Methodist Committee on Relief and is teaching others how to write grants.
Food for each event will be purchased mainly from the West Ohio Food Bank in Lima - the same place CALL Food Pantry in Celina shops to get the most bang for their buck. The church is allowed to purchase from the Lima outlet because they are providing a free meal, Miller said.
Any individuals or businesses who wish to help serve food or donate to the ministry can call Miller at 419-586-6621.