Wednesday, March 31st, 2010
Roughriders double up Panthers
By Ryan Hines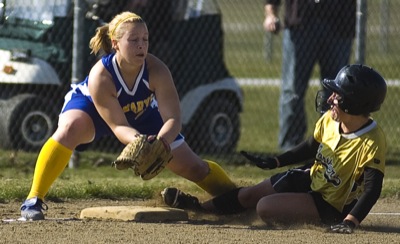 ROCKFORD - Two of the best Grand Lake area softball programs squared off on Tuesday afternoon as the spring sports season got into full swing.
Parkway dented the scoreboard first, but St. Marys rallied with four runs in the final four innings of play as the Roughriders knocked off the Panthers, 4-2, at Shane's Park in Rockford during a matchup featuring potential contenders in the Western Buckeye League and Midwest Athletic Conference.
St. Marys head coach Sue Grothause was excited to see her team start the season with a win against a traditionally strong program.
"I think that this is a huge win for us. To be able to open the season on the road with a win against a great program like Parkway should give us a boost of confidence to start the season," said Grothause.
Parkway head coach Mark Esselstein isn't discouraged to start out the season with an 0-1 record.
"We could have started the season against a team that isn't as strong as St. Marys, but I think that both of us (Parkway and St. Marys) use this game as a measuring stick to see where we are to start the season," said Esselstein. "Sue does a great job with their program and I saw a lot of positives out of our play today. We just weren't able to make enough plays to get the win."
An Emily Crowell RBI double in the first inning gave Parkway a 1-0 lead, but St. Marys took the lead for good in the fourth frame. St. Marys had the bases loaded when Haylee Kill tapped a groundball to the right side of the infield, but far enough from the plate to allow the Roughriders' Macy Ferrall to tie the game at 1-1. The Panthers got an out at second base, however, Parkway tried to turn a doubleplay on the softly hit groundball and the throw back to first base was dropped allowing St. Marys' Rachel Wale to hustle home for a 2-1 lead.
"They made a couple of mistakes tonight and I thought that we were aggressive on the basepaths and that allowed us to take advantage of those mistakes," said Grothause. "I think that we were able to make things happen on the bases with our speed and our speed put pressure on their defense."
Wale got a rally started for St. Marys in the sixth inning when she reached base on a single and advanced to third base with two outs following a pair of fielder's choices. St. Marys nine-hole hitter Liz McClellon gave the Roughriders an insurance run when she hit a soft liner to right-centerfield for a 3-1 advantage.
A Danielle Matthews RBI single in the bottom half of the sixth inning pulled the Panthers to within a run at 3-2, but Wale provided the Roughriders with another insurance run in their half of the seventh inning. Ferrall drew a two-out walk before Wale blasted an RBI double to centerfield for a 4-2 St. Marys lead.
Parkway had the tying runs on base in the bottom of the seventh inning when Morgan Cron doubled and Taylor Walls drew a walk, but Crowell flied out deep to centerfield with two outs to end the game.
Erika Thornsberry, who also had a pair of singles, got the win on the mound for St. Marys by allowing five hits while striking out seven and walking three.
"It's tough to lose the first game, but we faced a tough pitcher," said Esselstein. "I thought we did a good job of making contact and hitting the ball hard at times, but it seemed to be right at their defenders when we needed to get the big hit with people on base."
Parkway returns to action on Saturday to host Wapakoneta. St. Marys is back in action on Monday, hosting Fort Recovery.