Tuesday, April 6th, 2010
Celina slips past St. Henry in 10 innings
By Gary R. Rasberry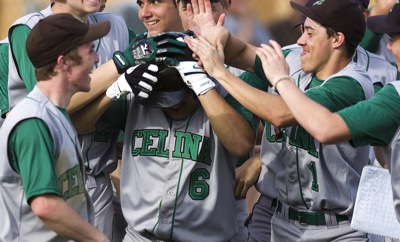 ST. HENRY - Celina rebounded after giving up four runs in the bottom of the first to force extra innings, then scored twice in the 10th frame for a 7-6 over St. Henry in a nonleague Mercer County battle.
The Redskins (3-2) went cold after plating four runs on four hits in the first inning, as Celina's Mike Siefker rebounded to retire 13 straight batters until a Brad Kremer single in the fifth.
"We came out ready to play, but for some reason, we just go flat a bit," said St. Henry coach John Dorner. "Three or four innings go by and we don't get any runners on base. That's where we have to make the improvement. We're a good hitting team (collecting 12 hits on the night), but for whatever reason, we have a spurt where we go flat."
That allowed Celina to come back. After getting two runs in the third, the Bulldogs tied the game on a two-run Caleb Shreves home run off Jay Kleinhenz.
"These kids don't get affected by a lot of stuff," said Celina coach Drew Braun. "They didn't panic when we got down 4-0."
Celina got the lead in the top of the seventh after Josh Leonard singled and went to second on a wild pitch. After Hayden Heiby was intentionally walked by Alex Post, Kyle Markle singled to score Leonard.
Heiby pitched the seventh inning trying to close things out, but St. Henry loaded the bases and Neil Schwieterman singled in pinch-hitter Cory Siefring to send the game to extra innings.
Both teams had chances to score in the eighth and ninth innings, but Celina finally came through in the 10th. Shreves, 2-for-2 with two walks already, was walked again. Derek Waterman followed with a single and Aric Fickert sacrifice bunted the runners up a base. After Brad Kremer came on to pitch for St. Henry and walked Mitch Albers, Kahl Knapke lofted a deep fly to rightfield. Tyler Bruns went to the fence and snagged the ball for the out, but it allowed Shreves to score on the sacrifice fly and the ensuing throw back to the infield was wild, allowing Waterman to dash home from third to add an insurance run.
"Earlier in the game, that would have been out with the way the wind was blowing," said Braun. "(Bruns) went back and made a real nice catch. We were tagging from everywhere. ... We were holding up Little D (Derek Waterman) at third and saw them miss their cut, so we gambled a little bit and were able to get that second run in. That sure made a difference."
The insurance run was key for Leonard, who came in to pitch in the eighth inning for the Bulldogs. Kurt Koesters singled and Brady Kremer doubled to start a rally for St. Henry. Brad Heitkamp grounded to short to score Koesters, but Post struck out and Jason Westgerdes flied out to centerfield to end the game.
"It's all about missed opportunities," said Dorner. "That's 20 free passes - walks and hit by pitches - the last two games (St. Henry walked 11 and hit one on Monday). Both were one-run losses."
Celina opens Western Buckeye League play today at Bath. St. Henry travels to Lima to face LCC for the second time in four days.