Wednesday, April 14th, 2010
Panthers blow out Indians in five innings
By Mark Ruschau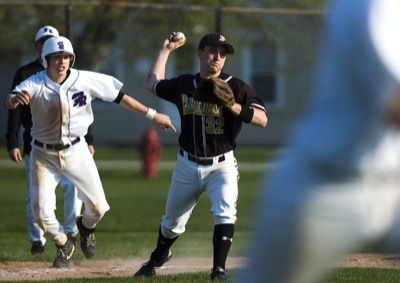 ROCKFORD - It was not exactly a thing of beauty, but veteran Parkway baseball Mike Schumm knows that when your team has been struggling, a win is a win. And when it comes in conference play, the more the better.
Parkway took advantage of sloppy play by Fort Recovery on Tuesday to run-rule the Indians, 15-5 in five innings in the Midwest Athletic Conference opener for both squads.
With the win, Parkway improves to 4-6 overall, while the loss is the fourth straight for Fort Recovery (1-4).
Fort Recovery was charged with six fielding errors which led to four unearned runs and extended three of the four Parkway scoring frames. In addition to fielding issues, Indians pitchers walked six Parkway batters, hit two more batters and threw four wild pitches.
Parkway showed off different facets of its offense by pounding out 14 hits, including five for extra bases. The Panthers were also able to play some small ball by stealing seven bases in nine tries while also executing a sacrifice bunt.
"It is nice to get a win. Any time you can get a win, it is nice, and hopefully we can use it as a springboard for the rest of the season," said Schumm. "I think there is potential for this team. We were able to score some runs tonight, but we still committed too many errors and that is something that we have to improve on. I think at times this season, we have let mistakes get to us, and as you mature those mistakes will not hurt you as much."
Taylor Bates and Brandon Moorman at the top of the order sparked the Parkway offense. Bates was on base five times, scoring three times while driving in two runs. Moorman, a freshman, was two-for-three at the plate, with a double and two RBI.
Fort Recovery first-year head coach Jeff Hahn was wondering what hit his young squad.
"We gave them 15 extra outs in the first three innings," said Hahn. "We talked all season that if we limit our mistakes we will be successful. Until we do that, we will not be successful. We had seven errors, and when you give extra at-bats, that leads to the pitchers having to throw more pitches and that takes your pitchers from five-innings guys to three-inning guys. In our situation, it is early in the season and we have to watch our pitchers' pitch count anyway and we are at a disadvantage because the teams we are playing have played more games and there pitchers can go longer.
"When you play freshmen like we do, it is tough to learn as you play," continued Hahn. "We started late, but that being said, our guys have so much to learn and we just are not ready right now. We have to go out and play the games now and we have to get better. If we can cut the mistakes in half we will be okay."
On a day when his teammates gave him all the run support he would need early, Bourelle did a solid job of managing the game on the mound, allowing four earned runs, walking three and striking out seven.
"I was very happy with the way Bourelle pitched tonight," said Schumm. "This was the first time this season that he went five innings and I thought he did a great job of throwing strikes."
Parkway returns to action on Friday playing host to Coldwater in conference play. Fort Recovery is also back in play on Friday traveling to Versailles for a MAC matchup.