Friday, April 16th, 2010
Tax day Tea Party in St. Marys
By William Kincaid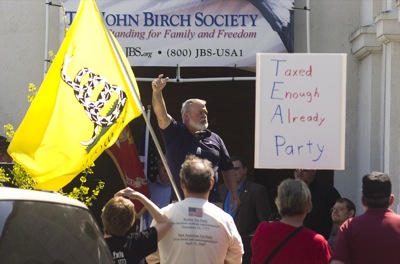 ST. MARYS - A yellow flag emblazoned with "Don't Tread on Me" and signs stating "you can't fix stupid, but you can vote them out" and "proud member of the angry mob" were waved on Thursday afternoon in downtown St. Marys.
"Government is the problem and always has been," 78th District State Rep. John Adams, R- Sidney, told a crowd of around 100 people at the Tax Day Tea Party. "Don't let this moment die or fade away ... make politics a part of your life, whether you like it or not."
Mark Foor of St. Marys organized Thursday's Tax Day Tea Party on behalf of the Grand Lake St. Marys John Birch Society.
Foor, who said he used to play football long ago, took on the role of cheerleader on Thursday as he led in the crowd in front of the city building in downtown St. Marys in chants such as "end the fed" and "one nation under God."
This is the second major Taxed Enough Already (TEA) party held in St. Marys.
"This was founded a republic," Foor bellowed, pointing out a democracy is two wolves and a sheep deciding on what's for supper.
Before introducing Adams, Foor said those in attendance were an army standing in defiance of tyranny.
Attendees came to protest government, at all levels, misusing U.S. tax dollars, Adams said, stressing that the primary message of the Tea Party is Americans are too heavily taxed.
"Dollars to be paid back by our children's children," he said. "No country or state can tax its way to prosperity."
When the government takes too much and spends recklessly, citizens must stand up, speak out and take action, Adams said.
"Don't let anyone tell you capitalism is at fault," he said.
The security of jobs is threatened by politicians in Columbus and Washington, D.C., Adams told the crowd.
Ohio is projected to have an $8 billion revenue shortfall in the coming years and Gov. Ted Strickland begged the federal government for $5.2 billion, he said. What he got was $8.2 billion, Adams said.
"This ... does nothing to solve our structural problems in Ohio," Adams said. "We spent money like we had it. We don't. Nothing changed in Columbus, Ohio."
Adams has called for legislation to reduce Ohio's government from 24 to 11 agencies and lower taxes, which would create jobs and prosperity, he said.
Throngs of residents have migrated from Ohio to other states in the last several years - flocking to the places where jobs are available, he continued.
"They've been leaving the state for the last 20 years. If you take all 50 states, we rank at the bottom of economic prosperity," he said.
But Adams wasn't all gloom and doom. He said citizens must have hope.
"You can turn it around with the right people quickly," he said.
Ronald Reagan had it right in the 1980s as his administration fostered more wealth over 20 years than was created in 200 years in the U.S., Adams said.
"Know who your political officials are," he urged.
After Adams' speech, Foor and Robert Valentine, assistant organizer of the Grand Lake St. Marys John Birch Society, stressed that U.S. currency, which Foor believes is controlled by private banks, needs to be backed by something substantive, specifically gold and silver.
Foor also called for a return to a country of rugged, self-reliant individualists who create and invent for themselves, who make their own products, whether it be in the garden or the garage. The personal computer, Foor said, was made in a garage, not in Washington.
Before the rally, Foor said he was happy with the turnout.
"People are sick and tired of their constitutional rights being tread upon," he said.
When asked about the national Tea Party movement and its leadership, Foor dismissed the question.
"This is just people on a local basis standing up for (themselves)," he said, adding it's freedom at its best.