Friday, April 16th, 2010
Parkway opens new diamond with blowout
By Ryan Hines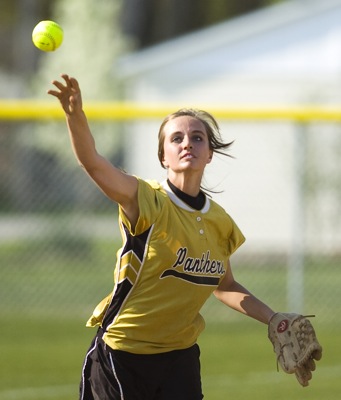 ROCKFORD - The Parkway softball team played their first game on a new home field and the Panthers looked more than comfortable in their new surroundings.
Parkway belted 23 hits and took advantage of 12 Coldwater errors en route to a dominating 28-4 win in Midwest Athletic Conference play on Thursday.
When Parkway started its softball program, home games were played in Mendon and a few years back, the Panthers called Shane's Park their home diamond. Parkway head coach Mark Esselstein is happy his team has a permanent place to call home.
"Shane's Park was good to us and so was the diamond in Mendon. This is our home now and it's just really nice to have a permanent home," said Esselstein. "We still have some work to do around here, but it's going to be a really nice complex for us to be proud of when it is all done."
Their were some gaudy offensive statistics for Parkway as 13 different players had at least one hit. Emily Crowell led the way for the Panthers with two singles, a double, home run, three runs scored and six RBI. Megan Ketchum (two doubles) and Peyton Heitkamp also had three hits apiece while Morgan Cron, Emily Matthews and Lindsay Shellabarger all had two hits. Heitkamp and Taylor Walls each scored four runs for Parkway while Matthews and Ketchum added three RBI apiece.
"We waited on the ball and hit the ball well. We hit a lot of balls hard and then they also had some defensive miscues that led to some long innings," said Esselstein. "We are at a good point on offense right now and we just need to keep it going. We have hit the ball well in our last two games (Fort Recovery and Coldwater)."
Despite the 24-run win, Parkway fell behind 3-2 after the top half of the second inning. It didn't take long for the Panther to rally.
Parkway scored 11 runs in the second inning and then added 15 more in the third inning as Coldwater's defense completely fell apart.
"One thing happened and it just continued to go downhill and it got away from us," said Coldwater head coach Jeff Kerr. "We didn't make routine plays in the field. We are better than what we showed tonight, for sure."