Monday, April 26th, 2010
OSU honors Reed at Spring Game
Ohio State Football Spring Game
By Gary R. Rasberry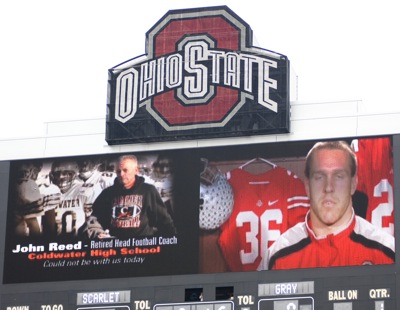 COLUMBUS - On a day where Mercer County paid tribute to the contributions he has made over the years, The Ohio State University football program saluted John Reed with a very special honor as well.
Reed, the longtime Coldwater football coach who is currently battling cancer, was named the honorary head coach for the Scarlet team during Saturday's annual Spring Game at Ohio Stadium.
Unfortunately, Reed was unable to make the game due to his health.
That did not stop the Buckeyes, with three former Coldwater football players on the roster, from paying tribute to Reed's contributions.
At the Spring Game Draft, where the OSU football team is divided up for the game, the three Cavaliers - senior linebacker Ross Homan, sophomore fullback Adam Homan and sophomore receiver Tony Harlamert - were placed on the Scarlet team.
"That was fixed at the beginning of the draft (the Spring Game Draft last Wednesday), obviously," said Adam Homan. "It was nice to get that Coldwater feeling again."
"It gave me something else to play for," said Ross Homan. "Trying to put on a show for him."
All three players expressed their well wishes to their longtime coach via the video screen before kickoff.
"That was awesome. I wish he could have been here. It was great they arranged for us to do that," said Harlamert. "Hopefully, he'll get to see it."
Ohio State coach Jim Tressel also talked about Reed during the Big Ten Network's broadcast of the game. At the postgame press conference, Tressel wished that Reed could have been there.
"We knew he was at home watching the ballgame," said Tressel. "He knows how we feel about him."
After the game, a 17-14 win for the Gray, the Homan brothers expressed their gratitude to OSU and their college coach for saluting Reed.
"I have to thank coach Tressel," said Ross Homan. "I can't thank him enough for doing this, for me, Tony and Adam, for coach Reed. I wish he could have come down, but he's too weak. I know he was watching this on TV. I hope he had the chance to watch the whole game."
"When (news of) coach Reed's condition came out, coach Tressel had the idea of making him the honorary coach for the day," said Adam Homan. "Obviously, Ross, Tony and I had no problem with that. We felt very honored to remember him in that way."
Harlamert, who was unable to play in the Spring Game due to injury, was hoping that Reed would get a chance to see him play in the Ohio State uniform after being redshirted last season and working with the scout team.
"This whole spring's been a little frustrating," said Harlamert. "I was really looking forward to having coach Reed see me play one last time. Obviously, it wasn't meant to be. You just take things as they go."
Even though they have moved on to college, it's obvious that Reed still is close to all three players.
"I was so excited to know that coach Reed's going to be honored in that way. Ross, Tony and I are all close to him. We stay in touch. When the news of his condition came out, I was very shocked," said Adam Homan. "When we talked to him, he really comforted us, as he's always done. It's great to have football as an outlet to honor him and bring him into our lives."
"Coach Reed was a mentor of mine, even coming through junior high. He always got me in the weight room, working out with the varsity. He took me under his wing," said Ross Homan. "I owe him everything. That's why I'm sitting here talking to you today. He's more than a coach. He's a great person."
Saturday was also highlighted by honors locally and statewide. The Mercer County Board of Commissioners and the Village of Coldwater proclaimed Saturday John Reed Day. Honors also came from the Ohio House of Representatives and local representative Jim Zehringer as well as a note of U.S. Congressman and House Minority Leader John Boehner.