Tuesday, April 27th, 2010
Council tables tax credit issue
By William Kincaid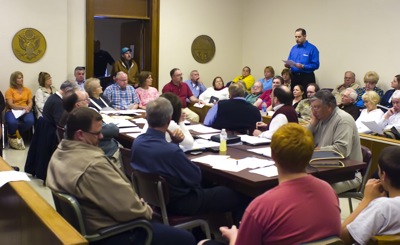 CELINA - A proposal to rescind the city's 1 percent tax credit for residents who work in other villages or cities was tabled by Celina City Council members on Monday night.
Council members were poised for second reading of the ordinance, but then decided more discussion was needed in a different forum. A council-of-the-whole meeting dedicated to the topic will be scheduled. The city's finances will be disclosed further at that meeting, council members said.
About 80 people filled council chambers on Monday night, making it the most heavily-attended meeting in years.
Celina Mayor Sharon LaRue asked those who oppose rescinding the tax to come up with alternatives to help the city save money or generate more revenue.
Currently, those who live in the city but work elsewhere receive up to a 1 percent income tax credit.
If the credit is rescinded, some citizens would pay income tax in two municipalities - where they work and where they live - and Celina would take in an additional $573,000 a year. City Auditor Emily Stewart said 28 percent of Celina's tax-filers work outside the city.
Several residents, including Fred LeJuene and Ron Luebke, who organized a citizen meeting last week, spoke out against the proposal before the item was tabled by council members.
"You want to double tax me. That's not right," said one man, adding he has worked in Sidney for 20 years and can't find a job in Celina that pays as much. "I spend just about all my paycheck here."
Resident Paul Scheideberg said if the city is in a financial crisis, which he believes it is, everyone should be bailing water out of the lifeboat equally.
"If everybody is going to sink or swim, everyone should contribute to the solution," he said.
Being a council member is not an easy job, but that's why they were elected, to make the hard decisions, he said.
As much as every one hates to pay taxes, people may be more inclined to support increases if a good-faith effort is made by the city administration and council members, he said.
"It's not the 28 percent that's going to go down with the ship, everybody is going to go down," he said, calling for transparency and a comprehensive plan by city officials.
City council members said a meeting to discuss the issue would be held soon.