Wednesday, April 28th, 2010
Shawnee wins battle of WBL unbeatens
By Gary R. Rasberry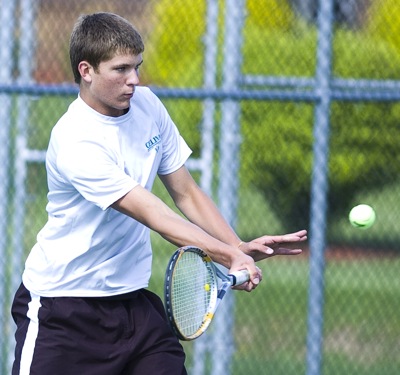 CELINA - All that was standing in the way for Celina to complete the regular season in Western Buckeye League boys tennis action a perfect 9-0 was Shawnee, one of the most dominant programs in league history.
The Indians held back the NetDog challenge, leaving the Booster Club Tennis Complex with a 5-0 shutout of Celina on Tuesday afternoon.
Shawnee goes to 8-0 in the WBL with only a league match at home against Defiance next Tuesday remaining. Celina closes out WBL play at 8-1.
"To be 8-1 and only lose to Shawnee, I'm proud of the guys," said Celina head coach Jan Morrison. "They've had a real good season."
The Indians singles players had dominating games, losing just eight games in their straight-set wins.
Sam Rutter took advantage of unforced errors by Adam Turner to post the first Shawnee win 6-2, 6-0. Shawnee's Jonny Rutter followed in beating Bryan Robbins by the matching 6-2, 6-0 scores. The Indians' Ryan Barton then beat Jake Remington in third singles 6-2, 6-2.
"I thought our singles guys played very well," said Morrison. "Shawnee's good. It's tough to get singles points from them."
The doubles matches provided some hope for Celina to get a win on the day. In first doubles, Shawnee's Erich Wade and Hunter Pay had Ryan Rutschilling and Tyler Everman down 6-3 in the first set, but in the second, the NetDog duo had the chance to cut the deficit to 5-4 by getting to break point off deuce. Four times, Celina had the break point in its grasp, only to have Shawnee's tandem force deuce before getting two straight points to post the 6-3, 6-3 win.
The second doubles match was the longest of the day. Celina's Justin Wenning and Eric Muhlenkamp took the first set 6-4, but Clayton Smith and Matt Tucker came back to take set two 6-1. Smith and Tucker then pulled away to take the third set - and complete the sweep of Celina - 6-3.
"We had some chances in doubles. We had the break point several times on the doubles courts," said Morrison. "We didn't get the conversion. It's hard to let those slip away.
"We had the break point (in the last game of first doubles) 4-5 times and we couldn't get it. We had chances there. We hope we can see them again and play a little better in the tournament."
Celina has at least two more regular-season matches after taking the rest of this week off. The NetDogs travel to Greenville on Monday before hosting Willard in the second round of the Ohio Tennis Coaches Association Team Tournament next Tuesday starting around 4 p.m. The WBL tournament gets underway May 6 at the University of Northwestern Ohio in Lima.