Thursday, May 6th, 2010
Local Rotary supports special needs children
By Margie Wuebker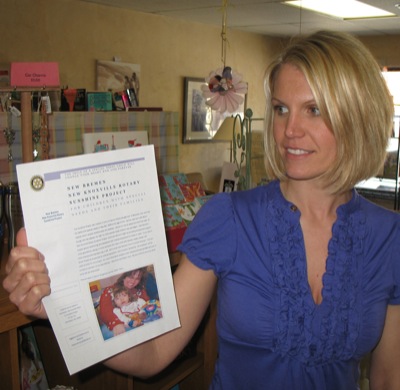 NEW BREMEN - The New Bremen-New Knoxville Rotary Club will kick off its Sunshine Project on Saturday, with a goal of helping special needs children and their families in Auglaize and Mercer counties.
Kristin Hough of St. Marys spearheaded the effort after the loss of her niece, Camryn Nicole Murgatroyd, on May 8, 2009.
"Camryn was 51/2 when she died after dealing with microencephaly, which caused cerebral palsy and epilepsy," Hough said. "She had such a fighting spirit. At the funeral home it was like I felt her tugging on my skirt and telling me 'Help me. I'm not done yet!' I promised then and there to continue her fight."
The little girl, who resided in the Columbus area, loved to play and go fast in her wheelchair, often giggling uncontrollably until hiccups set in, Hough recalled.
"Camryn could not roll over, feed herself, walk or talk," Hough said. "And yet she touched so many lives in her own quiet way. When times were tough, she reached out to us with a smile that filled the room with sunshine. Her spirit carried us through."
Hough approached fellow Rotarians about undertaking a new effort she named the Sunshine Project. The goal is to provide educational support, assistance with needed medical equipment and support group networking for families with special needs children. They embraced the proposal, keeping with the Rotary motto "Service Above Self."
She also carried Camryn's story to other Rotary clubs in Celina, St. Marys and Wapakoneta and earned their support.
"This is the club's project, not mine," she says. "I just spent a lot of time getting it started because the inspiration came from a little girl I love."
The Sunshine Project is on Facebook and on the Web at www.rotarysunshineproject.org. The site has a database with information regarding various conditions, such as epilepsy and Downs Syndrome, along with helpful links to other sites. There is a listing of doctors and hospitals specialized in treating certain conditions and a place where parents, caregivers and medical personnel can share tips regarding new therapies and devices such as computer software that gives a voice to children who cannot talk.
"Camryn enjoyed equestrian therapy and she loved her horse," Hough said. "We want to make sure people know what is available out there or on the horizon, what works and what doesn't."
Each month, the Web site spotlights a child with a certain condition. Camryn kicked off the recognition effort and this month's star is Will Suchland of New Bremen. Nominations are being accepted for upcoming months.
Nominations, questions and suggestions can be sent to the committee at rotarysunshineproject@ymail.com.
Another facet of the project involves the loan of medical equipment such as wheelchairs, bath seats and tomato seats - devices for youngsters who cannot sit without assistance.
"Sometimes it takes a long time and repeated attempts to get the equipment through insurance and other programs," Hough said. "I watched my sister and brother-in-law struggle with the process. Our goal is to help parents through those periods until they get their own equipment."
A donor has provided warehouse space and the committee will accept items families no longer need. Parents can access application forms online with all submissions reviewed by Sunshine Project committee members.
"Our intent is to increase awareness and appreciation of children like Camryn who face so many challenges," Hough said. "We can learn so much more from them than they can learn from us."
Hough's long-term goal is to establish a handicapped accessible park for children in this part of the state, complete with special ramps, climbing areas, wings and water fountains. The playground, at least two years away, will necessitate the support of more Rotary clubs in northwest Ohio, other organizations and businesses, she said.
"We are taking this one step at a time while looking ahead to the future," Hough said. "Camryn would be so proud. Her fight has ended and ours is just beginning."

Sunshine Project to begin:
Representatives of the New Bremen-New Knoxville Rotary Club will be walking and raising money for the Sunshine Project on Saturday at East Bank Park along Grand Lake.
The kickoff coincides with the first anniversary of Camryn Nicole Murgatroyd's death. Murgatroyd is the inspiration for the project.
The event is being held in conjunction with a Snap Fitness Run/Walk. Registration begins at 8 a.m. with walkers stepping out one hour later.
There will be information about the project, which serves children with special needs in Mercer and Auglaize counties.
Rotarians from area clubs will be walking and visitors will have an opportunity to meet Benson, a dog trained to assist youngsters with special needs.
The Sunshine Project relies on donations of money and medical equipment for children. Donors are being sought to pledge money for walkers. Information is available at www.rotarysunshineproject.org. Donations may be sent to New Bremen-New Knoxville Rotary Club, in care of Sunshine Project, P.O. Box 101, New Bremen, Ohio 45869.
Rotary is a 501(c)3, making all donations tax deductible.
-Margie Wuebker