Thursday, May 6th, 2010
Redskins force tie in MAC with win over Panthers
By Mark Ruschau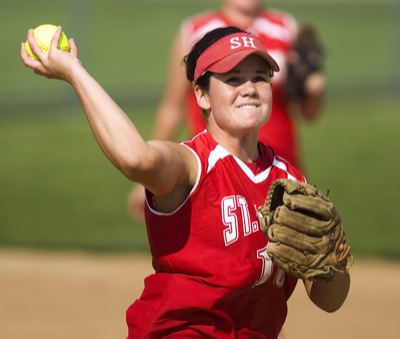 ST. HENRY - The 2010 Midwest Athletic Conference softball title is back in play as the St. Henry Redskins used two first inning scores, strong defense and a great pitching performance by senior Michelle Stout to defeat the Parkway Panthers 2-0 Wednesday afternoon at the Wally Post Athletic Complex.
With the win, St. Henry improves to 5-1 in the conference and moves into a tie in the loss column with Parkway and Marion Local. The Redskins close out conference play tonight at Minster.
The loss drops Parkway to 4-1 in the conference and 8-7 overall. The Panthers have two conference games left, tonight at home against New Bremen and May 14 at home against Versailles, the date changed from May 10 due to Versailles' tournament schedule.
"I cannot say enough about the way the girls played today in a game that almost had a tournament atmosphere," said St. Henry coach Josh Link. "We are not used to playing in a game like this, but it was a lot of fun and rewarding to know that we were capable of beating them."
St. Henry took advantage of sloppy Parkway defense to score the only two runs of the game in the first inning. Leadoff batter Ashley Heitkamp reached on an error by Parkway shortstop Taylor Walls. Kenzie Bruggeman then laid a bunt down the first base line, with Heitkamp taking third.
Maria Stammen then laid down another bunt, which thrown away by Parkway pitcher Emily Crowell, allowing Heitkamp to score to make it 1-0, Then with one out, Bruggeman went to third when a pitch got away from catcher Megan Ketchum, then scored when Ketchum's throw sailed into center field, with Stammen taking third.
Crowell got out of any further trouble as Olivia Hart struck out and Stammen was thrown out at the plate by Morgan Cron on a single by Stout who was later caught stealing.
"We talked before the game about just making contact and putting the ball in play because we knew that Emily Crowell is a great pitcher," said Link. "We're fortunate to get on base right away in the first inning and then we tried to execute a few small-ball plays and they threw it around a little, but we will take it.
"I told the girls that one is enough and it is a great accomplishment for the girls to say that you beat a great pitcher like Emily Crowell and a great program like Parkway,"
"Real awful is a good word for it," stated Parkway coach Mark Esselstein about his team's defensive problems in the opening inning. "You start the game out by throwing a ball away on a routine ground ball, and instead of coming back and fighting from that point on, it seemed like we put our heads down and let that bother us and turn it into a rotten inning."
Staked to a two run lead, Stout and her mates were not about to let it slip away. Stout did her part by pitching a two-hit shutout, striking out 10, allowing one walk.
The defense was solid behind Stout as they would not committed an error on the day. The defensive effort was highlighted by two plays in the seventh inning as Bruggeman snatched a wicked line drive off the bat of Ketchum and then Michelle Bruns threw out Lindsay Shellabarger at first base from right field.
"Our defense was solid all day, especially the last couple of innings," said Link. "The girls played today with ice water in their veins, every ball that was hit hard , the girls really stepped up and make the plays.
"I can not say enough about the way Michelle Stout when out there and performed today," continued Link. "She gutted through a few aches and I can say enough about the way she came through today."
"Michelle Stout is a very good pitcher and you just can not spot a team and pitcher like that two runs," said Esselstein. "By the same token, our bats were as lethargic as our arms and legs were, Stout did a great job of moving the ball around but we should of done a better job of hitting the ball."