Wednesday, May 12th, 2010
Flyers rally in last two innings
Division IV Sectional Softball at New Bremen
By Mark Ruschau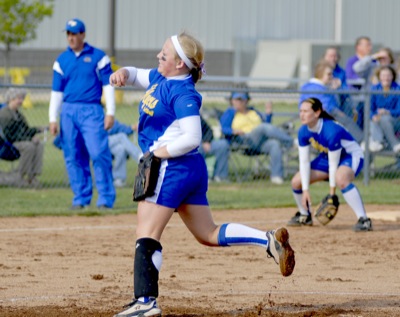 NEW BREMEN - The Marion Local Flyers got some offensive magic in the late innings by scoring seven runs in the last two frames to rally from a 1-0 deficit to post a 7-1 win over the Waynesfield-Goshen Tigers to capture a Division IV sectional crown at New Bremen High School.
With the win, the Flyers (14-10) move to the district tournament on Tuesday night at 5 p.m. at Wapakoneta High School against the winner of tonight's Columbus Grove-Bluffton sectional championship game at Pandora-Gilboa.
Trailing 1-0, Marion Local finally broke through offensively, scoring three times in the fifth. Gina Heitkamp reached on a walk to start the inning and Megan Kuether followed with a bunt single and then both runners moved up on a passed ball.
The rally was briefly short-circuited as Rachael Puthoff hit a ground ball to second, with Heitkamp being thrown out at home.
Looking for a spark, Marion Local coach Russ Puthoff plucked junior Kari Koesters off the bench to pinch-hit and Koesters delivered as she doubled to the fence in leftfield to drive in two runs to give her team the lead for good at 2-1.
"Kari has always been a good hitter for us, she has been able to put a bat on the ball all year and when we got to that situation she popped into my head right off the bat," said Marion Local coach Russ Puthoff. "Nicole (Schwieterman) has been struggling lately and I wanted to put us in a situation where Kari could produce and she did."
Jodi Otte then laid a bunt up the first-base line and it was thrown away by pitcher Shelby Gilroy allowing Koesters to score the third run of the frame.
The Flyers blew the game open in the sixth inning as they sent eight to the plate and scored four times.
Leah Griesdorn and Michelle Thobe hit back-to-back doubles to start the inning to make the score 4-1. After moving to third on a bounce out, Thobe made the score 5-1 as she scored on a passed ball.
With two outs, Puthoff doubled to right and stole third after Schwieterman followed with an infield hit. Both runners moved up a base on a wild pitch, with Puthoff scoring to make the score 6-1.
Otte then plated the final run of the game with an RBI single.
The late inning offensive heroics were made relevant thanks to a great pitching performance by Otte and great defense. Otte surrendered just one unearned run over six innings. Otte walked two batters, hit a batter but she struck out 10 while scattering just three hits.
"Jodi did a nice job pitching, she went into the game with a game plan and she hit her spots for the most part," said Puthoff. "The defense did a nice job of backing her up. The outfield and the infield came up with big plays for us. It was an all around great game."