Thursday, May 13th, 2010
Teenage Republicans get surprise bus tour
Celina High School
By William Kincaid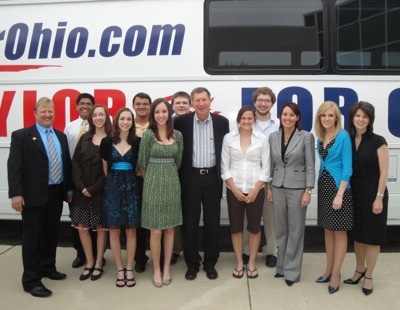 CELINA - Members of Celina High School Teenage Republicans got a last-minute, unexpected invitation to enter the campaign bus of gubernatorial candidate John Kasich on Wednesday.
The nine students were attending the Mercer County Republican Party's Reagan Day Celebration when they were asked to come aboard the bus. Kasich and his lieutenant governor nominee, Ohio Auditor Mary Taylor, visited Celina as part of a tour of West Central Ohio.
"It takes a lot of time to put this together," Kasich told the students, explaining his team of 10-15 people have been on the campaign trail for the last couple of weeks.
Teenage Republican President Evin Bachelor said he was thrilled.
"I was not expecting it," Bachelor said about the tour of the bus. "I was completely surprised. It was an honor."
Kasich's team led the students through the bus, showing them the back where press members conduct interviews and take pictures, as well as the front, which was described as the nerve center. The bus is equipped with a satellite so Kasich and Taylor can watch coverage of the events they attend.
Kasich inquired about the students, asking their ages and career plans.
The son of a mail man, Kasich said he knew he wanted to be something and pushed for it. He encouraged the students to think big and ignore negativity.
"Don't let people talk you down," he said.
Kasich mentioned nearby Wapakoneta, asking who would have ever known that a man from that city would one day walk on the moon?
"He had a really great sense of humor," student Samantha Manci said.
Manci said she's just starting to get involved with the campaign, adding that her parents are largely involved with the Republican Party.
The Celina High School Republicans said they plan on supporting Kasich and Taylor through a door-to-door campaign in Celina and online through social networks.
"Anything to get the word out," student Jena Sweigart said.
The group - led by advisers Mark and Angie King - meet once a month on Thursday mornings at the school.