Thursday, May 13th, 2010
Coach Reed will never be forgotten
By Gary R. Rasberry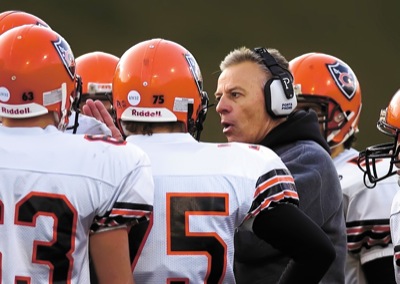 I haven't gone back through the archives and looked, but the number of Coldwater football games that I have covered in the last 10 years has to be over 50, considering the long tournament runs.
In fact, I can only remember one Coldwater game that I covered that didn't have John Reed as a head coach, that was back in 1993 or 1994 when Tim Hoyng was head coach.
The first Coldwater game I cover this upcoming fall, likely the opening game at Kenton, will be the first in a long time where I didn't finish my night with a handshake from John Reed, who passed away recently from cancer.
It will be a strange feeling, just because I had the chance to cover the football adventures of the Cavaliers and Reed from the greatest of victories to the toughest of losses.
In the last 21 years, I have gone through the passing of both sets of grandparents, an uncle, two of my best friends from my youth and a lot of distant relatives, but coming up with the words to talk about Coach Reed - I almost never called him by his first name, even when it was just the two of us - are difficult. I have tried a number of different ways to word this column, and even now I just am not sure if I'm saying things right.
When Coldwater athletic director Eric Goodwin called me just before 8 a.m. last Friday to give me the news of Reed's death, I headed into the office to type the story that everyone dreads to write.
It wasn't a shocking announcement, I had known for awhile that his health had taken a turn for the worst the last few weeks and that his family was called in and a number of former players and the coaching staff had paid visits, but it was still tough to type the words "passed away" on my computer.
It was my hope that when I wrote about his accomplishments on the football field, it would be for a story talking about his stepping down after a long and successful career to spend more time with his family, not as part of an obituary.
Dealing with him as a writer was sometimes interesting, but never a bad experience.
John had his way of doing things.
I knew that it was easier for me to drive back to the school after home games and wait until he got done with the team and greeting his family before I'd get a chance to talk about the game. Over the years, once he got to know me a lot more, I always tried to offer a hello to his parents, who made the trek from Upper Sandusky to see Coldwater games, when I was nearby.
When it came time for our annual preseason preview conversation, it was a pleasure sitting outside the school or down in the coaches' office, not only talking to him, but hearing him ask an assistant coach to talk about a specific position. It was the easiest 10-minute preview interview I had to do of all the previews I do each sports season.
John was also a man who really didn't want to have the spotlight shine on him all the time. When I talked about his induction into the Ohio High School Football Coaches Hall of Fame, he said something like he felt he didn't belong in there with names like Woody Hayes, Paul Brown or Earle Bruce.
Football is a team sport, and John treated all coaching honors as team honors. He would regularly credit longtime defensive coordinator Tim Hoyng for making the in-game adjustments, or mention the other coaches for their hard work. He once said it was like having seven head coaches in the program when speaking of his assistants.
In this day and age of hearing about discipline or the occasional lack thereof, you didn't have to worry about that with a John Reed coached football team. To see a group of 70, 80 or 90 players stop what they were doing when he asked for their attention and answer each question with a resounding "yes sir" was a great sight to see.
I jokingly have said that John could take a rock and turn it into an All-Midwest Athletic Conference offensive lineman, but the truth was that John had the ability to motivate the players into willing themselves into a winning situation.
Saturday will be the funeral for John David Reed: son, husband, father, grandfather, brother, teacher, minister and coach. There will be tears mourning his passing, and probably smiles as fond memories that he has given to the community of Coldwater and the area for all these years are shared.
John will still be with us in spirit. On Saturday, he will probably be watching the memorial service from a pretty good seat, and wondering what all the fuss is about.
Chip Otten, the man I will be talking to sometime in August about the upcoming Cavalier season, said it perfectly: "I'm not replacing him, just taking over for him. No one can replace him."
Amen.