Wednesday, May 19th, 2010
Family escapes burning duplex in Montezuma
By Margie Wuebker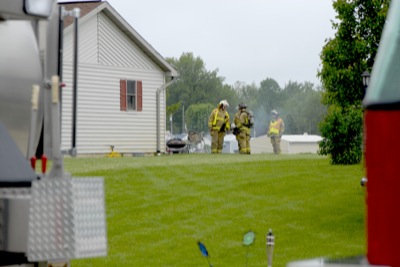 MONTEZUMA - The shrill warning of a smoke detector has been credited with giving an area family time to escape their burning duplex Tuesday morning.
Firefighters from Montezuma and Coldwater responded to the home of Travis and Kristy Williams, 6657 Brookside Drive, in response to a 911 call placed at 10:33 a.m.
The blaze began in a utility room spreading smoke throughout the home. Awakened by the smoke detector, Travis Williams immediately got up and took two young children outside. He then came back into the house for his wife who was reportedly showering and unaware of the fire.
Montezuma Assistant Fire Chief Doug Forsthoefel said the fire was contained to the utility room, although the rest of the home sustained smoke and fire damage. The cause has been listed as accidental due to combustible material placed too close to a heat source.
People residing in the other half of the duplex owned by Joe Bender also left the building as a precaution. However, the unit sustained no damage.
Five trucks and 20 to 25 firefighters remained on the scene for about 21/2 hours, according to Forsthoefel.
The Mercer County chapter of the American Red Cross was called to assist the family.
Forsthoefel did not know about insurance coverage. No dollar loss has been set but he indicated there appeared to be no structural damage.