Wednesday, May 19th, 2010
Couple honored as outstanding senior citizens
By Betty Lawrence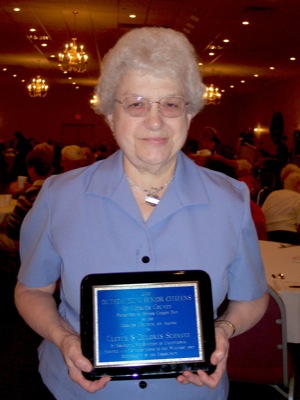 CELINA - Delores Schmitz and her husband, the late Cletus Schmitz, were honored with the Mercer County Outstanding Senior Citizens of the Year award during Senior Citizen Day activities on Tuesday.
"Each year we honor our seniors who have contributed to the community through volunteering in their retirement years. It's always a difficult choice as there are so many," said Karen Howick, director of the Mercer County Council on Aging, as she presented the award at Romer's at Westlake in Celina.
Delores Schmitz, 73, of St. Henry, accepted the award, a bittersweet honor as her husband died in a fire earlier this year.
The couple married 141/2 years ago, and both had been married before and lost a spouse. Between the two of them, they have seven children and two foster children.
Cletus was a retired farmer and Delores had worked at Hemmelgarn & Sons.
The couple volunteered at the Mercer County Council on Aging, Gardens of St. Henry and Briarwood Nursing Facility in Coldwater. They also helped at Mercer County Community Hospital in Coldwater and were active at the St. Henry Catholic Church.
"Volunteering is something we liked to do together," Delores Schmitz said, adding she plans to continue volunteering as long as possible.
On hand in support of their mother were Diane Stephens and Don Schmitz.
"They always enjoyed helping others," Stephens said. "It was something they liked to do together."