Wednesday, May 5th, 2010
Waterman pitches gem, but takes loss
By Gary R. Rasberry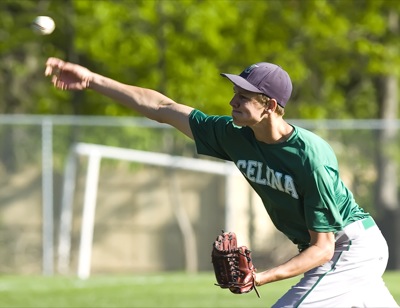 CELINA - For six innings, Darin Waterman had Elida right where he wanted them.
Then in the seventh, the players whom the Celina senior had struck out with ease earlier got their revenge.
Elida scored two runs in the top of the seventh as Elida pitcher Ronny Milam stymied the Celina bats. Elida won the battle of Bulldogs 2-0 at Montgomery Field on Tuesday afternoon.
Elida improves to 12-10 on the season and 4-4 in Western Buckeye League play. Celina drops to 13-11 and 2-6 with the loss.
It's hard not to tag Waterman with the old line of having a hard luck loss. Waterman retired the first 13 batters he faced, 10 by strikeout, before Shane Conrad singled with one away in the fifth. Waterman, who two weeks ago fanned 17 St. Marys batters, struck out 14 and walked just one.
"It was a hard luck loss for Darin," said Celina skipper Drew Braun. "That's two in a row (last Tuesday against Shawnee) where Darin's throwing a whale of a game and we've done absolutely nothing with our sticks to help him out.
"I should have seen this coming because of a terrible practice we had (Monday). I'm really disappointed with the mental approach some of our guys have at the plate and at practice. This week, we have definitely not got better."
"Darin is a great pitcher," said Elida head coach Mark Thompson. "I don't know how many he struck out, but he struck out eight of the first nine. I knew it was going to be tough."
But just as Waterman was mowing down Elida Bulldogs, Milam was enticing Celina into fly balls and ground outs. The Green and White lofted six fly ball outs in the game. Twice, Celina had innings end when Brandon Good threw out runners trying to take second base.
"Ronny pitched really well. I was really happy with his performance," said coach Thompson.
"We were hitting lazy fly balls everywhere," said Braun. "In the WBL, everyone can catch a fly ball. Until we start hitting the ball on the ground and make them make plays, it's not going to be any good."
Elida had a chance to break the scoreless tie in the fifth after Conrad's single. Josh Bush bunted Conrad to second to bring up Dalton Martz with two away. Martz lined a single to left as Conrad got the call to come home. Kyle Markle fired a bullet to Caleb Shreves, who had plenty of time to tag out Conrad to end the inning.
Elida finally got the scoreboard lit up in the top of the seventh. Matt Thompson led off with a single, then stole second. Austin Zuber flied to Markle in left for the first out. With Mackensie Hampshire up, Waterman fired a pitch that Shreves could not handle, moving Thompson to third on a passed ball. Hampshire, who struck out his first two times up, connected with a shot to right that scored Thompson. Conrad popped to second for the second out, but Bush drew a walk. Martz got his second single of the game - the only player with a multi-hit game - to score Hampshire. Waterman hit Good with a pitch before getting Andrew Clevenger to ground to the mound to end the inning.
"We talked to them about keeping in there. We were getting one swing per at-bat," said coach Thompson. "We just told them to be aggressive. We got some good swings there at the end."
Milam had all he needed to work with in the bottom of the seventh, enticing Markle to fly out and Shreves to ground out before Derek Waterman struck out to end the game.
"I was just hoping we can hang in there and give ourselves a chance at end, and we did," said Thompson. "We were fortunate to get out of here. That's a good team."
Celina is scheduled to host Kenton in the WBL finale next Tuesday.