Monday, July 26th, 2010
Bulldogs survive the weekend
State ACME Tournament
By Gary R. Rasberry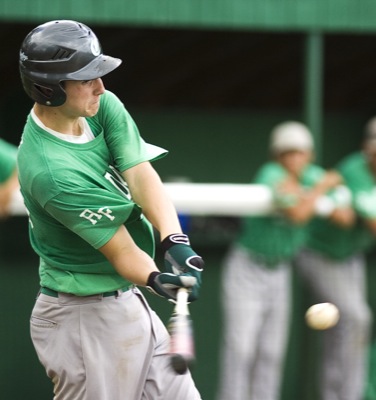 CELINA - There were some nerve-racking moments, but the Celina ACME team survived the weekend at the 2010 State ACME Baseball Tournament.
After losing 4-2 - and nearly being no-hit - in their opening game against Anthony Wayne on Saturday, the Bulldogs kept their season alive with a win over Bellefontaine Powerbuilt on Sunday. Celina scored four times in the first inning, then held on for dear life before ending Bellefontaine's summer with a 6-5 win in an elimination game.
The win keeps Celina alive in the loser's bracket and the Bulldogs will play Napoleon on Tuesday at 6 p.m. at Montgomery Field.
"After we got beat yesterday, we came back today and said 'obviously, it's a survival game.' You just have to do what you have to do to win, and that's what we did," said Celina coach Rob Howell.

Celina 6, Bellefontaine 5
The offense was missing for Celina on Saturday, but the Bulldogs cranked it up a notch in the first inning on Sunday.
Derek Waterman reached on a walk and Mike Siefker took first base on an error, before Braden Billger's RBI single produced the opening run. After an out, Kahl Knapke drew a walk to loaded the bases. Bellefontaine pitcher Travis Francis then got the second out via strikeout, but Ryan Paulus reached on an RBI infield single to score Siefker.
Aric Fickert was then hit by a pitch to plate the third run, which ended Francis' day on the mound and sent him behind the plate to catch. Mike Little came on and promptly walked Mitch Albers to give Celina a 4-0 advantage.
Insurance runs - which later proved to be vital - came in the second and fourth innings. Knapke tripled in Kyle Markle in the second inning and Siefker came home on a Brandon Brooks grounder in the fourth.
"We left way too many runners on base," said Howell, a notation to the 11 left on base (including leaving the bases loaded three times). "We're obviously going to go back to work tomorrow on that and hopefully fix that. But that happens and the only thing to do is battle through it. That's what we did. Give our kids a lot of credit. They hung in there and battled. They played to win."
Meanwhile, Kyle Berry was cruising on the mound for Celina through the first three innings, allowing one run on one hit. Bellefontaine did score a pair of runs in the fourth inning, but Celina's defense stopped the rally when Wayce Verian was thrown out at third to end the inning.
After issuing a walk in the fifth, Berry was replaced on the mound by Cody Vogel. Bellefontaine scored twice off Vogel to make it 6-5, but Vogel responded well in the final two innings. Vogel retired Bellefontaine 1-2-3 in the sixth, and after walking the leadoff batter in the seventh, got three straight outs to end the game.
Anthony Wayne 4, Celina 2
Matt Olsavsky dominated on the mound in the win for the Generals, retiring the first 12 batters he faced while carrying a no-hitter into the seventh inning.
The Generals scored one off Siefker in the first and fourth innings before three Celina errors in the fifth put the game away as Anthony Wayne scored two unearned runs. Siefker allowed just four hits in the game, but walked four and was called for a balk.
Olsavsky struck out Siefker to start the seventh, but lost the no-hitter as Billger and Markle singled. After Knapke grounded out, Brooks looked like the last out of the game with a routine fly to right, but Mike Valentine dropped the ball, allowing Billger and Markle to score. Olsavsky ended the game by making Paulus his 11th strikeout victim of the game.
SCHEDULE MOVED UP - The ACME Baseball Congress has decided to forgo the scheduled off-day on Thursday and push up the schedule of the tournament since it must be completed on July 31 since state rules prohibit play in August.
The elimination bracket final, originally scheduled for Friday at 7 p.m., will now be played on Thursday at 7 p.m., with the championship game taking place Friday at 6 p.m. If there is a need for a second championship game due to the double-elimination format, it will be played immediately following the first game.

Schedule:
Saturday's Games
Vandalia-Butler 5, Bellefontaine 3
Anthony Wayne 4, Celina 2
Perrysburg 4, Lima Shawnee 1 (10 innings)
Napoleon 7, Piqua 5 (completed Sunday after rain delayed)
Sunday's Games
Celina 6, Bellefontaine 5
Lima Shawnee 17, Piqua 7 (5 innings)
Anthony Wayne 9, Vandalia-Butler 5
Perrysburg 11, Napoleon 1 (5 innings)
Tuesday's Schedule
Elimination Games
Celina vs Napoleon, 6 p.m.
Lima Shawnee vs. Vandalia-Butler, 8:15 p.m.
Wednesday's Schedule
Winner's Bracket Final
Perrysburg vs. Anthony Wayne, 6 p.m.
Elimination Game
Tuesday's winners, 8:15 p.m.
Thursday's Schedule
Elimination Bracket Final, 7 p.m.
Friday's Schedule
State Championship Game, 6 p.m.
(If second game needed, will be played immediately following)