Friday, July 30th, 2010
Regatta on Grand Lake canceled
Water condition too toxic for racers
By Janie Southard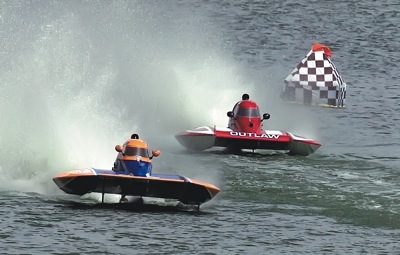 CELINA - The Governor's Cup Regatta on Grand Lake has been canceled, race co-chairs announced this morning.
"The continued deterioration of the water in and around our race course area has left us with no choice but to cancel our race in the interest of safety," co-chair Allen Baskett said in a press release.
The hydroplane racing had been scheduled for Aug. 28 and 29.
The cancellation comes weeks after the EPA issued an advisory telling the public to stay out of the water, including boating, and to not eat fish from the water. The advisory is due to this summer's massive blue-green algae blooms which produce harmful toxins and create a rancid odor.
On Thursday, an area doctor confirmed a Celina man's neurological illness is a direct result of contact with the algae. After bathing his dog who had been swimming in the lake and was covered in algae scum, the man was treated in a local hospital for several days. The dog died a few days after his swim in the lake.
The state has ceased patrolling Grand Lake in an effort to protect the health and safety of its employees, an Ohio Department of Natural Resources spokesperson said this morning. ODNR park services will continue to respond to emergency calls.
Baskett said ODNR employees are crucial to the regatta because they provide security around the racing course.
Race co-chair Myron Buxton said racers and crews want to race, and the sponsors continue to support the committee's efforts.
"It's a shame circumstances beyond the committee's control ... have put us in the position of canceling this year's event," he said.
The 2011 Inboard World Championships of the American Power Boat Racing Association is still scheduled to take place in Grand Lake. Baskett said the committee will be ready to host the event next year.
This year's Governor's Cup was to have been the 15th year of the revived event, which originally ran on Grand Lake from 1958 to 1975. The race attracts about 30,000 spectators who watch hydroplane racers from throughout North America.