Friday, July 30th, 2010
Celina eliminated by Vandalia-Butler
By Gary R. Rasberry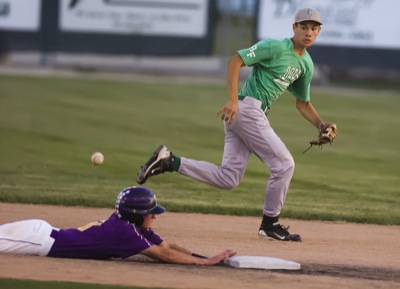 CELINA - After digging deep to pull out two straight wins in the elimination bracket of the 2010 Ron Fortkamp State ACME Baseball Tournament, Celina came up empty on Thursday.
Vandalia-Butler scored five times in the top of the first inning and put the game out of reach by fifth inning.
Celina, however, refused to be run-ruled and forced the game to go the distance before the Aviators came away with an 18-4 win at Montgomery Field.
Vandalia-Butler (29-9) faces Perrysburg (28-5) in the elimination bracket final tonight at 6 p.m., with the winner playing Anthony Wayne (25-4) in the state title game immediately following the first game. Should a second championship game be needed, due to the double-elimination format, the teams will come back Saturday at 1 p.m.
Celina takes home fourth place in the state tournament, bowing out after a 19-10 summer.
"I'm so happy with that. I really am," said Celina coach Rob Howell. "I'm so proud of our guys. We started with simple goals like getting out of sectional and make it to districts (Celina won the sectional). We made it to districts, hey, let's win districts. We did that. We get beat (on Saturday by Anthony Wayne), we said 'Hey, let's play another day.' That's our team philosophy and that's how these kids play it. They keep battling all the way to the end."
Vandalia-Butler put Celina on the ropes right away, as their first four batters all reached base against Celina starter Kyle Berry. Nate Barlow reached on a walk and Vinnie Jackson singled before Dan Link and Nathan Martin chased Berry with back-to-back doubles to make it 3-0. Braden Billger came on to pitch and promptly offered up an RBI double to Lance Staley to make it 4-0 before being able to record an out. By the time the dust settled after the first inning, it was 5-0 in favor of Vandalia-Butler.
"No question about it, they're a great team," said Howell about Vandalia-Butler. "Hats off to them. Wish them the best of luck."
Kyle Fain, fresh after not pitching since Vandalia-Butler's opening win on Saturday, scattered four hits over the first three innings on the mound. Fain came out of the game in favor of Austin Craine in the fourth inning, but Craine allowed three runs in the inning, and Fain came back in for the fifth to pitch two more innings.
Billger allowed just one run over the second and third innings before Vandalia-Butler had its most productive inning of the night. The Aviators sent 12 men to the plate, chasing Billger after just two batters as Cody Vogel came on to pitch. Vogel struggled in allowing five runs on three hits and two walks - mixed in with two Celina errors - that made the score 13-0 going into the bottom of the fourth.
With the score 13-3 in the bottom of the fifth, Fain needed just three outs to end the game via run-rule. Celina, however, was not about to make things easy. Brandon Brooks doubled and later scored on Mitch Albers' single to make it 13-4, sending the game into the sixth inning.
"Our kids battled, like they always do," said Howell. "They didn't give up. They kept digging in and digging in, waiting for something to happen."
Albers, who came on to pitch in the fifth, threw two scoreless innings before the Aviators put together one last offensive burst. Dan Link hit his third home run of the tournament - making him a top contender for tournament MVP - as part of a five-run inning.
Celina, which had used its substitutions earlier in the game, was forced to finish with eight players after Kyle Markle was hit in the head by a baseball after a Fain base hit. Markle left the field under his own power.
Barlow, Link and Fain each had three hits for Vandalia.
Brooks, Mike Siefker and Markle each had two hits for Celina.
Winner's Bracket Final
Anthony Wayne 3, Perrysburg 0
Matt Olsavsky shut down the Jackets in the two innings he pitched on Wednesday, then kept up the pressure on Thursday, throwing a complete game four-hitter to move the Generals into the championship game. The junior-to-be struck out eight and walked two in picking up the win.
Olsavsky improves to 2-0 in tournament play, not allowing an earned run in 14 innings and has given up just six hits and four walks while striking out 19 batters.
Peter Munger started the day on the mound after Alec Schmenk allowed two runs on Wednesday in the first inning. Munger allowed just one run - coming on a Steven Linde solo home run in the third inning - over the final five innings he pitched, striking out five and scattering two hits and two walks.

ACME Schedule:
Thursday's scores
Winner's Bracket Final
Anthony Wayne 3, Perrysburg 0
Elimination Game
Vandalia-Butler 18, Celina 4
Tonight's Schedule
Elimination Bracket Final
Perrysburg vs. Vandalia-Butler, 6 p.m.
State Championship Game
Perrysburg/Vandalia winner vs. Anthony Wayne, approximately 8:15 p.m.
(If Anthony Wayne loses, a second championship game will be played on Saturday at 1 p.m.).