Thursday, August 12th, 2010
Goats rule at this year's Mercer County Fair
By Shelley Grieshop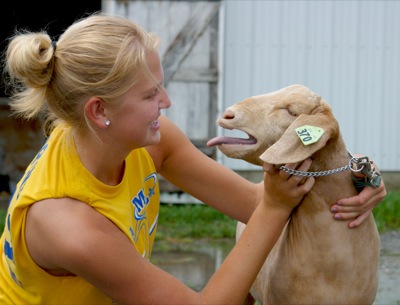 CELINA - Goats rule.
They're lively and loud and in record numbers at this year's Mercer County Fair.
"There's a 25 percent increase in goats this year," said Cheryl McKirnan, coordinator of the junior fair.
"Neahs" will be heard today across the fairgrounds as junior fair members begin filling stalls with 45 dairy goats, 44 breeding goats and 65 market wether goats - a total of 154 short-haired creatures to be weighed, showed and judged in the next few days.
Members of the junior fair goat committee said the reason for the increase is varied.
"They behave better than other livestock," said Lauren Bruns, a Marion Local High School senior and member of the Sewers & Growers 4-H Club.
But ease of handling isn't the only reason for the influx.
"They taste better and have less fat than steer," said Kendra Pease of Celina.
Riggs Florence, a senior at Fort Recovery High School, agreed and boasted the animal's health benefits.
"They're one of the leanest meats you can eat besides buffalo," he said, adding goat meat is a growing market in Eastern countries.
The committee believes fair-goers will be in for a pleasant surprise if they stop by the Coldwater Young Farmers Arena at 5:30 p.m. Sunday for the goat show.
"Goats are much more entertaining than other animals," Pease said.
Barb Phares, Ohio State University Extension educator and 4-H youth development director, said more and more youngsters are choosing market goats to bring to the fair because the work is short-term. Most begin raising the animals in late April and sell them during or after the fair in August.
"It's much easier, so that's the area where we're seeing growth," she said. "On the other hand, if you're into breeding, it goes all year 'round. That's a lot of work."
Livestock entries increased overall this year, Phares said. The numbers surprised everyone since most counties across Ohio saw numbers decline, she said.
"We feared that with the economy it might tank this year, but it didn't," Phares said.
The number of junior fair projects in all categories also climbed from 1,118 in 2009 to 1,167 this year. Nearly two dozen new 4-H members came on board.
Mercer County has 27 4-H clubs with approximately 800 members.

Fair highlights:
The 158th annual Mercer County Fair at the fairgrounds in Celina kicks off Friday and runs through Aug. 19. Admission is $9, which includes rides and general admission grandstand seating.
Friday
• 8 a.m. - fair opens/admission charged
• 9 a.m. - agricultural judging
• 9:30 a.m. - dairy cattle show/Adrian DeBrosse Arena
• 10 a.m. - home, arts, domestic and household judging
• 10 a.m. - commercial building opens
• 10 a.m. - booth judging/junior fair building
• 2 p.m. - floral judging
• 2-6 p.m. - Red Cross Bloodmobile
• 3 p.m. - dog show and agility competition/Coldwater Young Farmers Arena
• 3 p.m. - opening ceremony/front gate
• 3 p.m. - rides and games start
• 5 p.m. - crowning of equine queen and king, princess and prince
• 5 p.m. - crowning of goat queen/junior fair tent
• 6 p.m. - crowning of pork queen/junior fair tent
• 6:30 p.m. - cakes, pies and produce auction/entertainment tent (ET)
• 6:30 p.m. - Mercer County money motocross race/grandstand (GS)
• 6:30 p.m. - rabbit show/Adrian DeBrosse Arena
• 7 p.m. - town team (class A) horseshoe tournament
• 7 p.m. - swine carcass show/Coldwater Young Farmers Arena
• 7:30 p.m. - junior fair queen and king pageant/junior fair tent
• 8 p.m. - 56Daze/beer garden (BG)
Bear Hollow Wood Carvers will perform four shows each day of the fair.