Tuesday, August 24th, 2010
Coldwater sweeps team crowns
Mercer County Cross Country Meet
By Gary R. Rasberry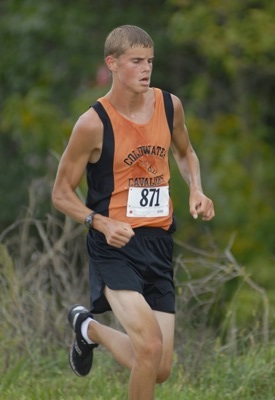 FORT RECOVERY - The Coldwater Cavaliers might have found a new favorite course to run.
The Mercer County cross country meet made its way to Ambassador Park in Fort Recovery, a course that had not been run in years.
But the Cavalier boys and girls felt like they were at home, sweeping the boys and girls high school titles on Monday. The junior high titles were split between the St. Henry girls and Coldwater boys.
To say that Coldwater's Mike Seas dominated the field in the first race of the regular season would be a bit of an understatement. The Cavalier junior shattered his personal record, crossing the finish line in a time of 16:14.12, which gave him plenty of time to catch a cup of water and wait for second place. Crossing the finish line in second was St. Henry's Mitchell Schulze, in a time of 17:27.17.
"I knew Mitchell was with me for the first mile," said Seas. "He had a pretty good race, but I felt like I had that kick at the two-mile. I felt like I could keep on going. I wasn't going to let that go. I was going to have the best day I could."
Zach Muhlenkamp of Coldwater took third, followed by Celina's duo of Chris Nusbaum and Derek Pease. Rounding out the top 10 were St. Henry's Kevin Knapke, Parkway's Landon Brehm, Coldwater's Jacob Lorton and Riley Kuess and Celina's Cole Mertz.
Coldwater placing four in the top 10 was enough to hold off St. Henry for the team title, 38-47. Celina was third with 57 followed by the host Indians (96), Parkway (125) and Marion Local (137).
The girls race was a little decided up front as Coldwater dotted the first four finishers and had all five of its scoring runners in the top seven to score 17 points. Runner-up Celina scored 67. Fort Recovery (76), Marion Local (92) and St. Henry (103) rounded out the scoring teams.
Leading the way for the Coldwater girls was Jill Kanney, who finished in 20:01.04. Veronica Bruns was 28 seconds back in second with Christina Seas third and Larissa Kohn in fourth.
"It was pretty good. It was pretty hot today, plus we didn't have much time because it was the first day of school and we got here a half hour before the race started (a 4:15 p.m. start)," said Kanney.
Celina's Andrea Bell was the first non-Lady Cav to finish in taking fifth, followed by Bulldogs teammate Hannah Fleck. The top 10 was rounded out by Coldwater's Brittany Kaiser in seventh, Marion Local's Olivia Hemmelgarn in eighth, St. Henry's Courtney Kunk in ninth and Fort Recovery's Abby May in 10th.
In the junior high races, Coldwater's Sarah Kanney - younger sister of Jill - made it two wins for the Kanney family as she won the girls two-miler. The boys junior high two-mile win went to Spencer Schultze of St. Henry.