Friday, September 10th, 2010
St. Henry pulls out victory in five games
By Ryan Hines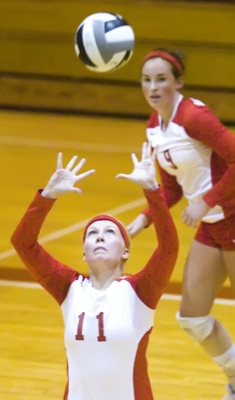 ST. HENRY - There's no other way to describe Thursday's Midwest Athletic Conference volleyball matchup between St. Henry and Minster other than to say it was a back-and-forth affair between a pair of powerhouse programs.
St. Henry grabbed the early advantage with a 25-19 win in the first game, but Minster retaliated with a tight 25-23 triumph in game two. The momentum certainly didn't carry over for Minster in the third game as St. Henry rolled to a 25-15 victory, but the Wildcats stood tall in game four with a 25-20 win that forced a winner-take-all fifth contest.
It was the first five-game match of the season for either team and St. Henry capitalized on some Minster miscues with a balanced offense on the way to a 15-8 triumph.
St. Henry head coach Diana Kramer knew that it was going to be a tough match for her Redskins (8-1, 2-0 MAC) and she liked what she saw from her team.
"There were two good teams out on the floor tonight and this is the type of game that I think everyone expected. Back-and-forth the whole way," said Kramer. "Both teams made great plays and I just think that we responded well overall to what they were doing. Just proud of the girls with how they stuck with it."
Minster (4-3, 1-1 MAC) head coach Ashley Rohrer pointed to unforced errors as the reason for the Wildcats' demise.
"I think that it came down to the fact that we made more unforced errors than they did," said Rohrer. "Two very good teams, but when you have two very good teams, it seems to come down to who makes the least mistakes and we weren't that team tonight."
The miscues that Rohrer speaks of came in game five when the two MAC rivals matched each other point for point in the early going. The fifth game was tied at 1, 2, 3, 4 and Minster led 5-4 until three straight Wildcat hitting errors (by three different players) and a kill by St. Henry's Kenzie Kleinhenz put the Redskins in control 8-5.
"I think that we showed we can be a good team, but there were a few miscues that came at important times to haunt us," said Rohrer.
St. Henry was able to maintain a three-point advantage at 11-8 before putting the game away.
Katie Hoyng blasted a kill off a diving Minster defender and then Brooke Froning had a stuff block before Abby Brunswick served up an ace to give St. Henry game point with a 14-8 lead. It was Froning that put the game away for St. Henry as the junior outside-hitter found an opening in the Minster defense with an off-balanced tip that hit the floor and gave the Redskins the hard-fought win.
"We got a lot of contributions from a lot of different girls tonight and we needed it to get the win because some girls were struggling, but other girls did a good job of stepping up," said Kramer. "Great team victory against a very good team. Girls deserve a lot credit."
St. Henry returns to action on Tuesday with a home match against Lehman while Minster hits the road again to face Celina on Saturday.