Tuesday, September 14th, 2010
Grand Lake rivals finish with 1-1 tie
By Gary R. Rasberry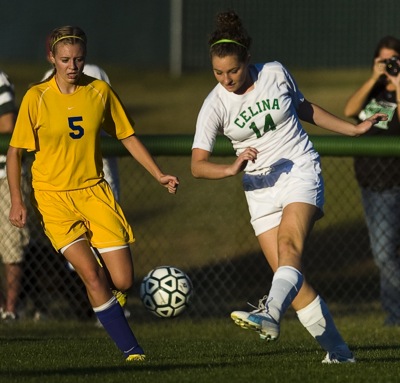 CELINA - The great expectations of Monday's St. Marys and Celina battle between Western Buckeye League girls soccer unbeatens lived up to the hype.
St. Marys took advantage of a Celina handball call in the penalty box with nine minutes left to go in the match by scoring the penalty kick to keep both teams unbeaten in the WBL with a 1-1 tie on Monday at the soccer stadium.
Both teams are 6-0-1 on the season. St. Marys is 3-0-1 in WBL play and Celina is 2-0-1.
"The girls played hard. They played the whole 80 minutes, both teams did," said Celina coach Calvin Freeman. "If somebody was a soccer fan and wanted to see a good match, they came to a good game."
"Two years ago we came in here and left with a win," said St. Marys coach Paul Dingledine. "They play very tough here at home. They don't like to lose at home for anything."
The match was about as even as could be. Celina held a slim 7-6 shot advantage while St. Marys won the corner kick battle 3-0. It was a strong, physical and defensive game where the number of good looks at the goal were minimal for both sides.
"Definitely was a physical game both ways," said Dingledine. "It wasn't like it was one-sided. It was a great battle. A lot of the St. Marys and Celina girls know each other and don't want to get beat by each other. It's turned into a great battle."
Celina struck first in the opening half. With the clock winding down to the 27-minute mark, Kenzi Rutschilling crossed a pass inside, where Taylor Guingrich moved in and put the ball past Paige Dicus for a 1-0 Bulldogs lead.
The way the game was being played, one goal looked likely to be enough. St. Marys had several chances at goal, mainly in the second half, but the shots went wide or high. Bulldog keeper Josie Klosterman had to make just one save on the night.
Celina, likewise, had chances to put the match on ice. Rutschilling and Mackenzie Welker had solid direct kicks at the goal, but neither hit the mark.
Near the nine-minute mark in the second half, the break St. Marys needed finally came. On a long kick into the Celina goal box, the ball hit a Bulldog player in the arm. The official immediately ruled a penalty and called on St. Marys to take a penalty kick.
Kristen Vehorn came on to try the kick, going to the right of Klosterman, and the shot was on target, tying the match at 1-1 with 8:56 left.
"We definitely caught a break, but by our angle, it was definitely a handball," said Dingledine. "She (the Celina player) was coming straight across and knocked it straight down. That was the call. Bad for them. Good for us."
"We got a break that didn't go our way," said Freeman. "I'm just going to leave it at that. Everybody seen it. I don't need to say anymore about it. The girl Paul put in to take the shot put it away. You have to give her credit. It was a pressure shot."
Celina worked hard to get the chance to break the tie, with Rutschilling getting two direct kick shots in the last six minutes. With under a minute left, Welker took a direct kick from near midfield. The shot was long enough, but just sailed over the cross bar, allowing St. Marys to run the clock out.
While one coach was a little more happy than the other, both know they control their own destiny in league play.
"I told them it's not over for them," said Freeman. "There's a lot of games left in the WBL. They're a good team. They played 80 minutes tough. I don't know if there's another team in the league that can play us even up as St. Marys did."
"I told the girls afterwards we're still in control of our destiny," said Dingledine. "Just continue to win, things will be fine. We can't afford another tie now."
The Celina junior varsity won its match over St. Marys by a 6-2 margin.
Celina will look to get its third league win on Thursday with a trip to Van Wert for a 5 p.m. varsity only game. St. Marys heads home to host Defiance on Thursday.