Friday, September 24th, 2010
Brewing it again
Wooden Shoe beer returns to Minster
By Margie Wuebker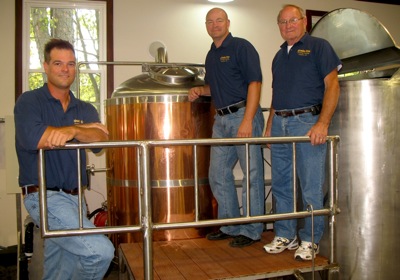 MINSTER - Andy Phlipot listened to the gurgle of beer during the brewing process and grinned from ear to ear. The sound was music to his ears after five years of planning and working to turn a dream into reality.
The Wooden Shoe Brewing Company is once more part of this Auglaize County community with an open house scheduled the first weekend in October.
"My goal was to bring back an important part of Minster's heritage," Phlipot said looking around the new microbrewery at 69 S. Garfield St. "And that's what we are doing one batch at a time."
Phlipot and his parents, Gene and Mary Lou, formed Wooden Shoe Brewing Company LLC with the intention of resurrecting a local brew dating back to the late 1860s.
Armed with a list of ingredients and the brewing rights, the Phlipots first contracted with a Cincinnati brewery to recreate the recipe. Visitors to the Minster Oktoberfest in 2006 had an opportunity to taste that first batch.
The experience only whetted their appetite to take the next step with local resident Marc Pelletier as brewmaster.
"Marc has been brewing beer for his own purposes for quite sometime," Phlipot said. "He once told me 'I'm going to brew your beer' and he is the one who's taking us to the next level."
Pelletier traveled to Maine to purchase the copper and stainless steel vats needed for the brewing process, which he explains as taking sugars out of the grain or mash and allowing them to ferment before adding yeast. The second step involves clarifying and aging the finished product.
The goal is to make 150,000 barrels a year, with Phlipot adding "Budweiser spills more beer in a matter of days than we will make in a year."
It will take time to reach that goal because microbrewed beer is not mass produced, according to Pelletier. The day-long process yields roughly 250 gallons, which many companies consider a small batch.
The company is producing lager, a traditional brew fermented at colder temperatures; a bock, a full-bodied dark brew; and one called Stallostown, a Belgian-style wheat beer. New varieties are planned to be introduced around Christmastime.
The longnecks or bottles bear an updated logo that depicts two men with raised beer steins.
The original brewery was located along Ohio Street at the present-day Precision Strip site. Recognized as one of the leading brewers in the Midwest, the company did nearly $2 million in business during its peak in the 1940s. It shipped to many states and large cities, including Chicago and New York City.
Phlipot's research indicates the brewery's tax money generated enough for the village's entire operating expenses between 1933 and 1943.
Franz Lange of Piqua started the business in 1869 with ownership changing hands during the formative years. It gradually became the community's largest employer with one historian calling the sprawling brick and stone structure a beehive of activity.
Stories have been told of hobos making a stop at the factory's overflow area to enjoy some free beer. They apparently drank their fill before catching the next train for parts unknown.
Competition from huge brewing companies with multi-million dollar marketing budgets brought the local brewery to the brink of ruin. It was placed in receivership in 1953 with an auction taking place the following June.
The Phlipots, who purchased a storage building and then constructed a cathedral-style addition to the front, have plans for the future including a museum of Wooden Shoe memorabilia culled from Gene's 40-year collection.

If you go:
MINSTER - Open house activities will take place Oct. 1-3 at the Wooden Shoe Brewery, 69 S. Garfield St.
The event begins Oct. 1 from 5 to 11 p.m. with the traditional blessing of the beer followed by tours and sampling.
The Oct. 2 schedule, which runs from 8 a.m. to 11 p.m., includes tours along with music provided by Overdrive and Crackerjax. Visitors also will have an opportunity to watch Big 10 football coverage from 4 to 7 p.m.
More music, tours, beer tasting and NFL football are planned Oct. 3 from 9 a.m. to 11 p.m.
- Margie Wuebker