Friday, September 24th, 2010
Flyers rebound quickly from first-game struggles
By Mark Ruschau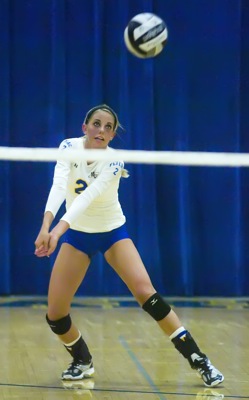 MARIA STEIN - A sign of a good team is how it responds in a pressure situation.
On Thursday night, the Marion Local Flyers found themselves not playing well and in a struggle with the Parkway Panthers. However Marion Local was able to right the ship and pull away for a 25-23, 25-16, 25-14 Midwest Athletic Conference win at Marion Local High School.
Marion Local, the number-one ranked team in the state for Division IV, improves to 10-0 overall, but more importantly, the Flyers remain as the lone undefeated team in the MAC at 4-0. Parkway falls to 14-2 overall (3-2 MAC).
Parkway took advantage of some sloppy play by the Flyers to build early leads of 8-4 and 13-9.
Marion rallied back to tie the score at 13-all and again at 15-15 as Alyssa Winner recorded four kills and Kaylee Schaefer added three kills to key the Flyers' comeback.
Parkway then went on a on a 4-1 run to take a 19-16 lead, capped by a kill from Emily Crowell that led to a Marion Local timeout. After the timeout, the Flyers got kills from Alyssa Winner and Margaret and four Parkway errors to tie the game at 22-22.
Parkway took its last lead of the game at 23-22 on an Alyssa Winner hitting error, but a hitting error by the Panthers' Kelsey Bates tied the game at 23 and gave the Flyers the serve back. Alyssa Winner knocked home a kill and Casey Heitkamp and Josie Winner combined to block Bailey King for a point to close out the game with a Marion Local win.
"We just did not play well in the first game and our offense was just not clicking and Parkway was taking it to us," said Marion Local coach Amy Steininger. "To our girls credit, they clawed back until they tied it at 23-all and they were able to get the last two points.
"You are going to have games where it is comes to just a couple of points and you hope that your experienced players do not freak and that they make the plays," continued Steininger. "Our girls have been there before and they did what they had to."
"We were where we needed to be in game one, tied at 22. At that point, we really needed to clean up our game and just did not make the plays we needed to make down the stretch," said Parkway coach Jeff Marbaugh. "In a match like this, the first game is important because of the momentum that you can take or do not take into the rest of the match. When we did not end the first game very well, it was tough to come back at them."
The Flyers took the momentum from the first game and carried it into the final two games on the way to a three-game win.
In the final two games, Marion Local gave Parkway just 15 points on mistakes and made just one service error.
Schaefer had a balanced game for the Flyers as she recorded five kills, a block and three service aces. Alyssa Winner had 11 kills, Kelly Schlarman added seven kills and sophomore Jose Winner chipped in five kills and three blocks.
"The first-game win gave us some momentum and we did a good job of cleaning up our play," said Steininger. "Our offense flowed better after the first game and we played much better defense as well."
Marion Local returns to action on Saturday to take part in the Fall Classic at Mother of Mercy High School in Cincinnati, where action begins at 9 a.m. Parkway returns to the court on Tuesday, traveling to Van Wert for a non-conference match.