Wednesday, September 29th, 2010
Parkway and three local individuals qualify for districts
Girls Sectional Golf at The Fox's Den
By Gary R. Rasberry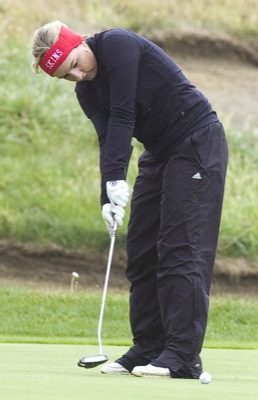 CELINA - For the teams of the Midwest Athletic Conference at the Division II girls golf sectional, it was a familiar scene after playing at The Fox's Den for the second time in four days.
Familiarity may have been a benefit, as Parkway captured one of three team-qualifying spots for next week's district tournament. All three individual spots that qualified for districts are occupied by MAC golfers.
It was Shawnee and Lima Central Catholic that dueled it out for the sectional championship and Shawnee was the runaway winner with a round of 333 and LCC was second at 365.
Parkway secured third place - and a spot at Sycamore Springs in Arlington next Tuesday - by shooting a 382, nine strokes ahead of fourth-place Coldwater and 14 strokes in front of Minster in fifth.
"We played really well," said Parkway coach Eric Stachler. "When the girls came in after nine (holes) to post unofficial results, I thought we really had a chance. Emily (Winings) shot well. Abby Evans kind of struggled. Jennifer Schatzer was where she usually was. Laura Smith was really having a good round.
"Back nine was tougher and I told my girls to keep going. When I came in and started looking at scores, I knew Shawnee and LCC had good teams. I knew coming in it was going to come down to one of the four MAC teams - ourselves, Coldwater, Minster and St. Henry. I looked at scores and saw where Coldwater had already beaten Minster. As our girls come by I asked how they did. Em shot a 92. Abby shot a 98, which was good after a 51 on the front (nine). Jennifer come in and shot a 94. At that point, I thought we had a legitimate shot at advancing as a team. ... When Laura came in, she thought she shot a 102, in reality she shot a 98. Extremely proud of all the girls. They worked hard. I know they were disappointed on Saturday finishing third (in the MAC)."
St. Henry's Kendra Rindler shot an 88, earning her the first of the three district spots for individuals not on a qualifying team.
"I was nervous coming out here today because I knew there was going to be some good golfers," said Rindler. "I just came out here and tried to play my best. It worked out."
Coldwater's Ashley Evers, who won the MAC tournament title and conference Golfer of the Year accolades on Saturday, will also move on after shooting a 92.
The final qualifying spot went to Minster's Marissa Conrad, who golfed out of the fifth position on Tuesday. Conrad's 96 was a stroke ahead of Crestview's Leigha Taylor and New Bremen's Hadley Williams to take the third and final qualifying spot.
"It was pretty cold at the beginning, but it warmed up," said Conrad about the weather. "I tried my best. I didn't think I was going to make it but I pulled through."
Sectional medalist honors went to LCC's Shelby Warner, who was the only golfer to break 80 on the day with a 79. Shawnee's Sheridan Balyeat, who will golf for Ohio State next season, shot an 80 with teammate Lesli Stolly carding an 81.
St. Henry shot a 416 as a team. Marion Local shot a 435 paced by Elizabeth Rutschilling's 101 and New Bremen finished with a 441 led by Williams' 97.