Friday, September 3rd, 2010
Bulldogs earn shutout over Grand Lake rival
By Gary R. Rasberry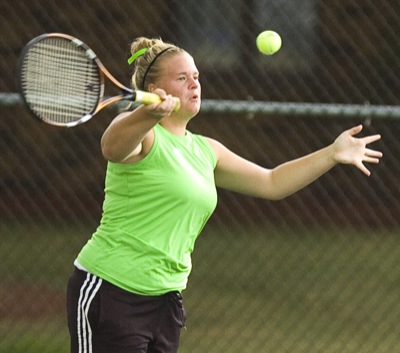 CELINA - The Celina girls tennis team continued is dominance in Western Buckeye League action, improving to 3-0 with a 5-0 shutout of rival St. Marys in the teams' Battle of Grand Lake on the hardcourt.
The Roughriders drop to 1-3 in league matchups.
"I thought the girls played well in the adverse conditions," said Celina coach Jan Morrison, noting the gusty winds. "We adjusted to keep the ball in play and played as aggressive as the weather allowed."
The doubles wrapped up with quick matches. Celina's first-doubles tandem of Audra and Samantha Manci came through with a 6-1, 6-2 win over St. Marys' Haylee Kill and Allie Zimmerman. Then in second doubles, the Bulldogs' Allison Laux and Katie Kerr posted a 6-1, 6-3 win over the Roughriders' Ariel Dotson and Katie Peterson.
The Celina singles players completed the sweep.
Brianna Beougher won in first singles for Celina with a 6-2, 6-2 triumph over Mariah Krugh while the Bulldogs' Emily Zender posted matching 6-2 set wins over Alex Spencer in second singles. Celina's Katie Pyle blanked Emily Brown in game one 6-0 and then topped her 6-3 for the victory in third singles.
Morrison liked the way her girls played in garnering the sweep over the rival Roughriders.
"St. Marys kept the ball in play tonight. The girls had to come up with shots," said Morrison. "St. Marys didn't give it away. My girls were able to make some shots and hit some winners."
"Celina just didn't miss shots," said St. Marys coach Brice Brenneman. "When they keep it in play as consistently as they do, they're tough to beat."
In junior varsity matches, Celina got a singles win from Miranda Werling to go along with doubles victories from Elise Elston and Andrea Martinez, Emily Nighswander and Leslie Gudorf, Leah Rose and Kalie Gardner and Brooke Sutter and Sasha Jenkins.
The teams will break for Labor Day before returning to WBL action on Tuesday. Celina travels to Van Wert while St. Marys plays host to Defiance.