Wednesday, October 13th, 2010
Marion Local repeats as MAC champions
Flyers win league title for seventh time
By Randy Bruns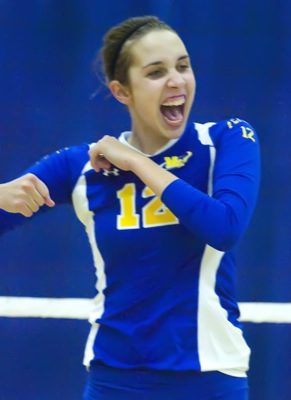 MARIA STEIN - A special group of seniors celebrated in style on Tuesday in their final match at The Hangar, as the Marion Local Flyers wrapped up their second straight Midwest Athletic Conference title with a 25-15, 25-15, and 25-20 win over the Versailles Tigers.
The Flyers are now 20-1 overall and their 8-0 conference mark gives them a two-game cushion with just one league game remaining. The MAC crown is the third in the past four years and seventh overall for the Flyers. The Tigers fall to 17-4 on the year and 6-2 in league play.
The seven Marion seniors have a combined 20 years of varsity experience among them, and during their tenure the Flyers have achieved unprecedented heights. Since their freshman year, the Flyers' varsity has gone 102-5 with three Division IV state championships.
The hosts got out to a quick start in the first set. Kaylee Schaefer drilled three consecutive aces early on to stake the Flyers to a 5-1 advantage, and their lead would only grow from there. Alyssa Winner later served up six straight winners to build the Flyers' bulge to 13 points and the Tigers would never seriously threaten the rest of the way.
The second set was tight in the early stages, but Kelly Schlarman and Winner combined for six service points in an 11-3 run that put the Flyers up 18-10. The Tigers couldn't pose a challenge and the Flyers finally put the set away on kills by Casey Heitkamp and Winner.
The final set started a little better for the visitors, who climbed out to their first two-point lead of the night at 4-2. Momentum quickly swung the Flyers' way, though, as they went on a 12-2 run for a 16-7 advantage. This time the Tigers made a late run and pulled to within three at 23-20 after three straight aces by Katie Grieshop, but it turned out to be too little, too late.
A hitting error on the Tigers gave the Flyers match point, and Winner emphatically ended the proceedings by slamming an errant pass to the floor.
"We knew (Versailles) only had one league loss coming in and we were going to have to be on our game," said Marion coach Amy Steininger. "We didn't do a great job of passing tonight but you have to give Versailles credit because they served very aggressively. We still need to work on our passing, but when the pass got there tonight we did a very good job."
Versailles coach Karla Otte, a former assistant to Steininger at Marion, was hoping her team could pose more of a challenge to the Flyers.
"We definitely got out-played tonight and Marion deserved that win," stated Otte. "Marion served us very aggressively and we were prepared for it, but we just didn't handle it very well. We'll have some big bumps in the road in the tournament and Marion is one of those teams you want to see to gauge where you're at competition-wise."
The Flyers got significant contributions from all seven seniors. Winner led all hitters with 11 kills while Schlarman and Heitkamp added six and four. Schaefer had two kills to go with her three aces, setter Stacey Huber had an ace and distributed the ball well and the duo of Nicole Schwieterman and Alyse Bergman played stellar defense for the hosts.
"These girls have been on varsity for many years and they all start," summed up Steininger. "It's nice that they all get to contribute in different ways and I thought they all played very well tonight."
Marion will wrap up its regular season on the road at Fort Recovery on Thursday while Versailles finishes up at home against New Bremen.