Saturday, October 16th, 2010
Cardinals slip past Panthers
By Gary R. Rasberry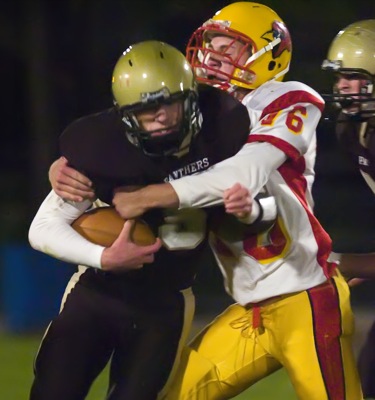 ROCKFORD - New Bremen jumped out to a 21-0 lead, only to see Parkway rally after several Cardinal turnovers and the score was tied early in the fourth quarter.
New Bremen, however, got a score midway through the fourth quarter to hold on for a 28-21 win at Panther Stadium.
The Cardinals improve to 2-6 on the season and 2-4 in Midwest Athletic Conference play while Parkway drops to 2-6 (1-5 MAC).
"This is the first time, I can honestly say, that these kids battled through some adversity," said New Bremen coach Rob Messick. "You kind of expect to see the snowball. We were able to stop that. I was pretty excited about that."
The game appeared to be turning into a rout after Calib Cox scored his second touchdown of the game on a 55-yard touchdown reception from Elliot Westerbeck with 1:50 left in the second quarter.
The Panthers, however, rebounded quickly as New Bremen was unable to run out the clock when Westerbeck fumbled and John Rollins picked up the ball with 26 seconds left on the Panther 38. Two plays later, Riley Bransteter, making his first start at QB in place of the injured Bryce Bedwell, found Tyler Deitsch for a 27-yard scoring pass with 14 seconds left to make the score 21-7 at halftime.
Parkway got the ball to start the second half and moved it 51 yards on eight plays as Bransteter and Joel Cesar ran the ball effectively to the Cardinals' 14-yard line. Bransteter then went to the air and found Caleb Rodriguez for a touchdown to make it 21-13.
New Bremen looked to drive a nail into the coffin by moving the ball down to the Panthers six-yard line, but Westerbeck fumbled and Parkway's Sean Mendes recovered.
The teams traded punts, and Parkway got another chance as the fourth quarter got underway. Cesar moved the ball 23 yards on two carries and Bransteter found Rodriguez again, this time for 48 yards and the touchdown. Parkway looked set for the extra-point kick, but while the line was lined up away from the ball, Derek Luth took the snap and ran it up the middle for two points, tying the game at 21-21 with 10:55 left to play.
"We kind of challenged them at halftime," said Parkway coach Ed Kuhn. "We said to keep fighting. That score before the half was big. We got a little momentum back for us. We told them we don't quit."
Neither team was able to score on their next possessions, and New Bremen got the ball back with 8:22 left on its 43-yard line. After Westerbeck and Cox teamed up for a 23-yard pass to get the ball to the Panthers' 23-yard line, Skinner broke through the middle and scored with 6:19 left. Cox's PAT made it 28-21.
The Panthers got 18 yards on two plays on the next possession, but Bransteter lost the ball on a fumble and the Cardinals recovered. New Bremen, however, could not keep the drive moving and had to punt. Parkway managed just four yards on three plays, with a fourth-down pass play no good. New Bremen got a first down to run out the clock.
"It's always interesting when we play each other," said Messick of the Cardinal-Panther matchup. "Last year, it came down to the same scenario (a close 14-13 win by New Bremen). Obviously, their injuries hurt them. They had kids who were out that make a big difference to their team. Then again, I think our offense probably played their best game of the year."
"Our guys fought hard," said Kuhn. "I expect that from them and they did. They kept clawing. We just fell a little short tonight."
Skinner carried the ball 23 times for 130 yards in the game while Westerbeck added 104 on the ground to go with 130 yards passing. Cox had three catches for 86 yards.
Cesar led Parkway with 62 yards rushing while Rodriguez added 83 yards of offense.
New Bremen returns home next Friday to face Coldwater while Parkway heads to Minster to face the surging Wildcats.