Tuesday, October 26th, 2010
Wind power blows into Grand Lake area
By Shelley Grieshop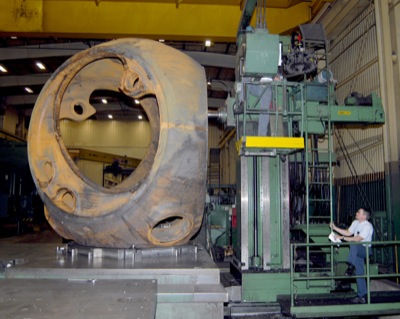 It's likely that wind turbines will invade the landscape in southern Mercer County in the next few years, officials say.
Although no wind farm projects have been approved for the area, the possibility of their towering presence and economic impact has some people skeptical of their arrival.
Ivo Goettemoeller, who lives on Lange Road in rural St. Henry, about a half-mile from a wind test tower, isn't overly worried about noise or property value reductions, even though commercial wind turbines are huge - about four times taller than most cell phone towers. He does, however, believe the government should think twice before putting millions of dollars into alternative energy sources.
"I just think we ought to be getting more out of coal or oil before sticking a lot of money into these things," the 75-year-old said.
But Goettemoeller also said he doesn't think about them too much and wouldn't block them from going up in his neighborhood.
Jared Ebbing, Mercer County's economic development director, admits he's uncertain about the overall future of wind energy but doesn't want the local area to miss an opportunity for growth.
"Anytime you have an investment in a county, that's good," he said.
Ebbing recently met with a wind development company interested in creating a wind farm of 60 to 100 turbines in the southern portion of the county. The project could involve a $200 million investment to generate electricity, representatives from NextEra Energy Resources told him.
The Florida-based company already has four wind speed test towers in the St. Henry, Maria Stein and Fort Recovery areas - including the one near Goettemoeller's home - and data reportedly looks good.
NextEra owns 77 wind farms - 9,000 turbines - in 17 states; the closest to Ohio are in Pennsylvania and Illinois.
The main source of revenue to communities from wind farms is from real and personal property taxes. Although recent legislation provides various tax exemptions to companies with qualifying projects and local approval, they still must make annual payments - in some cases millions of dollars - to the counties, schools and townships where the turbines are located.
Other local revenue includes the annual income landowners, typically farmers, receive for leasing their property for the turbines.
At least six businesses in Mercer, Auglaize and Van Wert counties are capitalizing on the wind industry market. All are considered active and emerging companies in the Ohio wind supply chain, according to the Ohio Department of Development (ODD).
Celina Industries, a division of Celina Tent, is one of them.
"We're cutting fiberglass sheets here and shipping them to another supplier," said company owner Jeff Grieshop. "It's just a small portion in the supply chain, but we've been doing it for about 1 1/2 years now."
Other area companies involved in wind turbine components and services, according to the ODD, are Thieman Stamping & Metal Fab Co., New Bremen; Minster Machine; St. Marys Foundry; Coldwater Machine; and Elmco Engineering, Van Wert.
Dale Arnold, director of energy policy for the Ohio Farm Bureau, said revenue pocketed through wind projects and related manufacturing may help financially strengthen communities, entice industry and generate future growth.
"You're talking about a win-win situation for everyone in the community," he said.
Arnold serves as a consultant of sorts for individuals and local governments across the state seeking advice on alternative energy - wind, solar and biodigesters. He knows of a few "very reputable" wind development companies contemplating projects in the Grand Lake region, he said.
"Several companies are interested in your area and are doing the preliminary evaluations at this particular time," Arnold said.
One wind energy company has taken the big step in nearby Van Wert County where construction is under way for a wind farm of 121 turbines. Forty more turbines are planned for neighboring Paulding County.
The Van Wert County turbines should be visible in the spring, and some are expected to be operational by the end of 2011.
Overall, officials there are pleased to be a part of the green energy industry.
"Things moved pretty fast, but we made decisions we felt were best for everyone," Van Wert County Commissioner Clair Dudgeon said.
Mercer County commissioners said they've received calls and e-mails from local residents concerned that wind turbines could be built too closely to their property or might reduce the value of their home. Commissioners, too, are concerned about several issues, including the lack of authority they might have if a wind project gets state approval.
"What bothers me to a certain degree ... if the state can come in here and override our zoning laws or do things like that," commissioner Jerry Laffin said. "I guess we just don't know enough about it yet."
The final decision on whether a wind farm project is approved lies with the state's Power Siting Board, which must ensure wind farm plans follow numerous regulations, such as environmental laws and those set by the FAA. The approval process takes about two years and allows for local input, said Dayna Baird, an Ohio wind farm lobbyist.
"Through that process there are ample opportunities for public hearings for local individuals, townships, whoever," she said, adding the Power Siting Board's decision also can be appealed to the Supreme Court of Ohio.
Numerous conditions were mandated by the Power Siting Board before the wind farm in Van Wert and Paulding counties received final approval. Some of the stipulations involved proper setbacks from roads and structures, the reduction of shadow flicker, and establishment of a means to accept public complaints.
Lawsuits from individuals and groups complaining of excess noise, vibrations and loss of property values have cropped up in recent years against wind companies in Illinois, Texas, Pennsylvania, Wisconsin and Massachusetts.